30340 SW Boones Ferry Rd
Wilsonville OR 97070
Phone: (503) 427-2500
Fax: (503) 427-2519
Contact Us
The Lonesomes
Music in the Amphitheater
6 p.m. |
Free |
All ages welcome
About The Lonesomes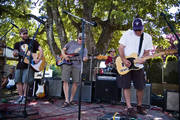 Amazing new CD that contains shining elements of The Byrds (jangly 12-string guitars and a trumpet solo a la "So You Want To Re A Rock & Roll Star"), Tom Petty, Neil Young (the guitar solos), and the Allman Brothers (nice mix of Hammond and dual guitars) sprinkled tastefully throughout! When you think about The Lonesomes, there's the feeling of the old West, not just in the band's name but in their sound and feel - something that put you in mind of tan chinos, shoe boots with spurs, shots of rye at the local saloon, and lots of dirt. It has the necessary punk-slash-honky-tonk charm to qualify as an alt-country gem. And, despite all of the classic influences on display, they still manage to make music that sounds remarkably fresh. The 12 songs on There's No Denying Josephine represent all of their best elements - the songs keep you guessing what might come next, each one with its own little angle on the whole picture the band is presenting."
--Ray Gianchetti, Kool Kat Musik
ReverbNation:
About Music in the Amphitheater
Outdoor tunes! If the weather turns, we'll head inside to the Church. But what if it's booked?! Well, we wouldn't want to intrude on someone's wedding or something, so we'll have to cancel in that case. You win this round, Mother Nature!
Map & Directions
Tags for this Event:
Music > Americana
Property > Wilsonville Old Church & Pub
Related content (tags):