Come have fun in school... for once...
5736 N.E. 33rd Ave.
Portland, OR 97211
Local: (503) 249-3983
Elsewhere: (888) 249-3983
Contact Us
Life of Pi (PG)
Mommy Matinee
2:30 p.m. |
$3 per person |
Minor with parent or guardian
About Life of Pi (PG)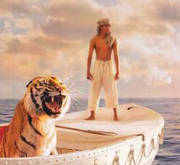 In Canada, a writer visits the Indian storyteller Pi Patel and asks him to tell his life story. Pi tells the story of his childhood in Pondicherry, India, and the origin of his nickname. One day, his father, a zoo owner, explains that the municipality is no longer supporting the zoo and he has hence decided to move to Canada, where the animals the family owns would also be sold. They board on a Japanese cargo ship with the animals and out of the blue, there is a storm, followed by a shipwrecking. Pi survives in a lifeboat with a zebra, an orangutan, a hyena and a male Bengal tiger nicknamed Richard Parker. They are adrift in the Pacific Ocean, with aggressive hyena and Rickard Parker getting hungry. Pi needs to find a way to survive.
About Mommy Matinee
Moms, dads, grandparents, nannies and their babies are welcome. Let the kids fuss – we don't mind!
Map & Directions
Tags for this Event:
Movie Types:
Mommy Matinees
All Ages
Property > Kennedy School
Related content (tags):