30340 SW Boones Ferry Rd
Wilsonville OR 97070
Phone: (503) 427-2500
Fax: (503) 427-2519
Contact Us
Marca Luna
Music in the Amphitheater
6 p.m. |
Free |
All ages welcome
About Marca Luna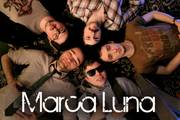 Some say that certain things in this world were not born into existence as most things are. They have just always been so. Forces that move us, drive us, and leave us yearning for more. Yet there is one force that demands to be reckoned with, to stand out from the rest. That force is Marca Luna.
Singers Devan Waterhouse and Marcus Glaze soulfully tell their stories with captivating vocal harmonies and catchy hooks, while the melodic undertow that is Kyle Woody's guitar playing glues the band together with his weightless technicality. Drummer Aaron DeRosso and bassist Chris Ficht drive the sound with perfect synchronicity and style with heavy grooves, swagger and snappy beats. Marca Luna doesn't just believe in performing but entertaining! With energy, antics, and a psychedelic, blinding light show production. It's not just a show, but an experience you can't miss!
Myspace Page:




Facebook Page:
About Music in the Amphitheater
Outdoor tunes! If the weather turns, we'll head inside to the Church. But what if it's booked?! Well, we wouldn't want to intrude on someone's wedding or something, so we'll have to cancel in that case. You win this round, Mother Nature!
Map & Directions
Tags for this Event:
Music:
Rock
Alternative/Indie
Property > Wilsonville Old Church & Pub
Related content (tags):