A truly remarkable destination.
2126 S.W. Halsey St.
Troutdale, OR 97060
Local: (503) 669-8610
Elsewhere: (800) 669-8610
Contact Us
Joshua English
7 p.m. |
Free |
21 and over
About Joshua English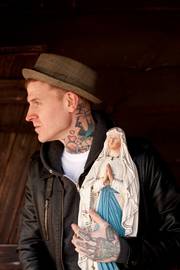 Joshua English is a Northwest original. This troubadour (and erstwhile founder of laudable Boston-based trio Six Going On Seven) sinks his teeth into his most recent incarnation with typical aplomb. Releasing his solo debut in April 2007, English wasted no time, logging over a hundred shows in the year that followed. In August of 2008, he slowed long enough to spend six days tracking what would serve as his follow up, Kill For Sport. Once again helmed by studio wunderkind Adam Taylor, this record was the flagship release for Camp Street Studios (Pixies, Radiohead) newly minted vinyl/digital only label. Inspired by perpetual motion and an ocean's worth of black coffee, English's infectious melodies, velvety vocals and acerbic lyricism are proof positive that his years on the road have not been vain. His new collection Lay Bare Your Bones shows English firing on all cylinders: eleven tracks of dark, lyrical pop sure to please the faithful and convert a few non-believers. In the meantime you can catch up with English in the lower 48 and abroad, sharing stories that have long been in the making.
"A roustabout troubadour cut from the same swath of cloth as David Dondero or Frank Turner (whom he has toured alongside) English makes you want to strip away the responsibilities of everyday life, and hit the vast open rails with a bindle in one hand and a battered guitar case in the other." --Ezra Ace Caraeff, Portland Mercury (December, 2010)
"If you like understated roots rock or folk with spicy lyrics akin to John Wesley Harding, be sure to give English a spin." --BillsMusicForum.com (September, 2010)
"Theme From Idle Hands" is a brooding rougue's theme song with a killer a cappella break that showcases English's voice at its snarling finest; the rollicking "M-LV" rocks a tale of love and loneliness on the road; and the bittersweet "Nickel In" is a quietly captivating ballad that belies his American roots with a hint of country twang." Ruth Brown, Willamette Week, September 2010
Map & Directions
Tags for this Event:
Property > Edgefield
Related content (tags):