3702 S.E. Hawthorne Blvd.
Portland, OR 97214
Pub: (503) 467-7521
Movie Line: (503) 249-7474 x1
bagdad@mcmenamins.com
ReeltimeLIVE! Presents...
Raiders of the Lost Ark (PG–1981)
My Favorite Movie
10 p.m. doors; 11 p.m. screening |
$5 per person |
21 and over
Buy Tickets
Tickets on sale now!
About Raiders of the Lost Ark (PG–1981)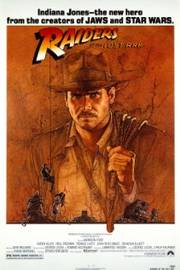 The year is 1936. A professor who studies archeology named Indiana Jones is venturing in the jungles in South America searching for a golden statue. Unfortunately, he sets off a deadly trap doing so, miraculously, he escapes. Then, Jones hears from a museum curator named Marcus Brody about a biblical artifact called The Ark of the Covenant, which can hold the key to humanly existence. Jones has to venture to vast places such as Nepal and Egypt to find this artifact. However, he will have to fight his enemy Renee Belloq and a band of Nazis in order to reach it.
About My Favorite Movie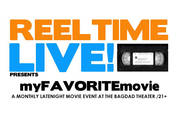 The premier episode of Reeltime LIVE! Presents My Favorite Movie featuring - "Raiders of the Lost Ark" (1981) with special guest, local actor/filmmaker Mike Prosser. Also, Cort & Bobby (formerly Cort & Fatboy and former Bagdad late night movie hosts) will be present to "Pass the Torch" to Reeltime LIVE! 
Reeltime LIVE! is a live show that takes place in conjunction with big screen events. Back again after the popular "Portlandia" screenings at the Mission Theater and the 85th Annual Academy Awards screening at the Bagdad Theater, Reeltime Live is a late night event series at the Bagdad Theater.
The once a month screening will feature a special guest local artist/celebrity interviewed by our host Tony Altamirano and followed by a special screening of their favorite movie. Reeltime LIVE! Presents My Favorite Movie also includes a variety of house bands and special musical guests, stand- up comedy acts, the hilarious local news recap show "Portland World News" and themed renditions of "Kick-Ass Oregon History" by Doug-Kenck Crispin.
Map & Directions
Tags for this Event:
Property > Bagdad
Related content (tags):