Back to school in Bend!
700 N.W. Bond Street
Bend, OR 97703
Local: (541) 382-5174
Elsewhere: (877) 661-4228
Contact Us
Twilight Saga: Breaking Dawn - Part 2 (PG-13)
Two Dollar Tuesdays
Tuesday, February 26, 2013
6 p.m. |
$2 per person |
Minor with parent or guardian
About Twilight Saga: Breaking Dawn - Part 2 (PG-13)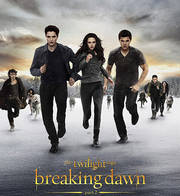 Bella is enjoying her new life and new powers, after the birth of their daughter, Renesmee. Soon, however, their family bliss is threatened again, by a new menace. Vampire Irina believes that the Cullens have created an immortal child and a threat to revealing the vampires existence to humans. As Irina rallies the Volturi to destroy this 'immortal child', Bella and the Cullens - together with any allies they can assemble - are preparing to fight a crucial, ultimate battle, to protect their family.
imdb:




video:
About Two Dollar Tuesdays
All movies only $2!
Map & Directions
Tags for this Event:
Movie Types > All Ages
Property > Old St. Francis School
Related content (tags):