Relax in style amid the legends
112 N. Tower Ave.
Centralia, WA 98531
Local: (360) 736-5164
Elsewhere: (866) 736-5164
Contact Us
Twilight Saga: Breaking Dawn - Part 2 (PG-13)
Early Bird Matinee
Wednesday, February 27, 2013
12:30 p.m. |
$3 per person |
Minor with parent or guardian
About Twilight Saga: Breaking Dawn - Part 2 (PG-13)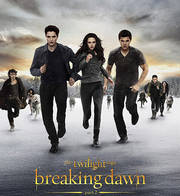 Bella is enjoying her new life and new powers, after the birth of their daughter, Renesmee. Soon, however, their family bliss is threatened again, by a new menace. Vampire Irina believes that the Cullens have created an immortal child and a threat to revealing the vampires existence to humans. As Irina rallies the Volturi to destroy this 'immortal child', Bella and the Cullens - together with any allies they can assemble - are preparing to fight a crucial, ultimate battle, to protect their family.
imdb:




video:
About Early Bird Matinee
Enjoy the movie, a 1/2 sandwich with soup or salad, plus a non-alcoholic beverage for just $10 per person!
Map & Directions
Tags for this Event:
Movie Types > All Ages
Property > Olympic Club
Related content (tags):