An escape into the extraordinary
3505 Pacific Ave.
Forest Grove, OR 97116
Local: (503) 992-9533
Elsewhere: (877) 992-9533
Contact Us
Miller & Sasser
7 p.m. |
Free |
All ages welcome
About Miller & Sasser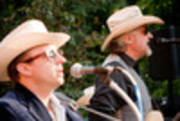 Tucson Weekly - Big Talent: A few words on amazing visiting musicians playing at Fall Club Crawl®
Chris Miller and James Sasser (Bud Light Music Stage, 10 p.m.) hail from Portland, Ore. That's not a city that one would consider a hotbed of country music, but once you hear the rich baritone voice and the plaintive notes of the Telecaster, you'd swear they came from a place like Bakersfield. Perhaps the sound comes from the fact that Chris Miller spent so many years in Austin as a sideman for the likes of Wayne Hancock, Dale Watson, Chris Gaffney, Ted Roddy and Marcia Ball. Or maybe it's because James Sasser originated from cowboy stock out in rural Oregon. In any case, the end result is pure honky-tonk music, the way Waylon, George and Hank would've liked it. Since Chris Miller also plays guitar and lap steel for Dave Alvin, he has enticed the rest of the Guilty Men to come out and tour with him.
Arizona Daily Star Review - Honky-tonk duo to play free concert on Sunday
Austin-by-way-of-Portland, Ore., guitarist Chris Miller found some time on his hands last year, so he did what you would expect from a veteran musician.
He went out and made more music.The Texan's project with Portland honky-tonk singer James Sasser is less rocking than his regular guitar gig with roots rocker Dave Alvin's Guilty Men. (Alvin put his Guilty Men on vacation and went out with the Guilty Women this year.)
Sasser's honky-tonk recalls old twang, simple lyrics and uncomplicated melodies. It's the kind of music you'd hear in the West Texas dance halls where the guys once upon a time put on crisp shirts and ties and wore their best Stetsons, and girls were likely to wear patterned cotton sundresses and sandals.
He sings about getting over an ex to the backdrop of a three-chord melody. Toe-tapping Western melodies sneak in, the kind you can play with an acoustic guitar, a stand-up bass and a snare drum. It's comfort food for your ears. Miller, whose Tucson tie was co-writing the title track of Troy Olsen's debut indie album, "Living in Your World," hooked up with Sasser last year when he returned to his native Portland. A prolific songwriter himself, he was struck by Sasser's honky-tonk writing style that hinted at the pop stylings of Roy Orbison and Buddy Holly.
Tucson Weekly "Short Takes" Review
During his 20 years living in Austin, Chris Miller played guitar for a virtual who's-who of roots performers. During a break from playing guitar and lap steel for Dave Alvin and the Guilty Men, Miller returned to his native Portland, Ore., where he teamed up with songwriter and golden-throated singer James Sasser. The collaboration runs the gamut from full-fledged honky-tonk to songs that could have come from the '70s AM gold era, and it's all pretty damn great.
Map & Directions
Tags for this Event:
Property > Grand Lodge
Related content (tags):