10000 N.W. Old Cornelius Pass Rd.
Hillsboro, OR 97124
(503) 645-3822
Fax: (503) 439-1059
Contact Us
The Quick & Easy Boys
9 p.m. |
Free |
All ages until 10 p.m.
About The Quick & Easy Boys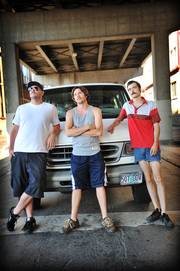 The Quick & Easy Boys' highly anticipated second full-length album, Red Light Rabbit, is an amalgamation of funk, psychedelic rock, and garage-soul with a slight pinch of honky-tonk. Imagine the Minutemen, Funkadelic and Willie Nelson rolled into one. Also, these new recordings highlight the undeniable talents of this power trio who have been packing Northwest venues for the past few years.
Formed in 2005, The Quick & Easy Boys quickly made a name for themselves in Eugene, Oregon before heading north and building a Portland, OR fanbase. Their shows are an interactive party with electrifying stage antics and profound musical moments as the trio pours out every ounce of their energy, leaving nothing behind. The band has gained the reputation for moving a crowd all-night long whether it be a big festival or a tiny watering hole. The core members - - Jimmy Russell on guitar, Sean Badders on bass, and Michael Goetz on drums - - have continued to evolve musically...and audiences continue their enthusiastic calling of "Yeah Bud!" at every show.
In 2008, they released Bad Decisions With Good People which left people raving about their unique and vibrant sound, and in September of 2009, they sojourned out on their first United States tour. Two national tours are now planned for 2010. They've opened both locally and nationally for The Bridge, Iglu & Hartly, The Pimps of Joytime, Southern Culture on the Skids, Big Sam's Funky Nation, Bob Wayne & the Outlaw Carnies, Vince Herman, Scott Law and Shanti Groove.
The Quick & Easy Boys' high-energy thought-provoking original music provides a bounce to the step that only dancing can cure. So if you're tired of the same old sounds and looking for the next up-and-coming thing, The Quick & Easy Boys' newest release, Red Light Rabbit, is sure to give you a run for your money.
YEAH BUD!!!
-----
"Maybe Bootsy Collins wasn't listening to Farmer John when he said the Funkadelic bassman could sleep in his barn, because it appears Bootsy did have relations with John's daughter, and out popped Portland's The Quick & Easy Boys. Honky-tonk ain't never been this funky, and funk ain't never been this close to a cornfield. Riff-heavy and driven by a stoned-out beat wrested from the Mothership, The Quick & Easy Boys' sound is a one-of-a-kind cerebral treat. Maybe this is what it sounds like when Willie Nelson puffs extra purple herb." ~Willamette Week
"I predict that within a couple of years, the band's rallying-cry, 'Yeah, Bud!' will be on bumper stickers from Beaverton to Bonnaroo and beyond."
~ P. Vaughn Shaver, Oregon Music News
website:




MySpace page:
Map & Directions
Tags for this Event:
Music > Rock
Property > Rock Creek Tavern
Related content (tags):