Director James Westby's "Hot in the Zipper" (2012)
"The Auteur" (2008)
8 p.m. |
$3 per person |
21 and over
Director James Westby's "Hot in the Zipper" (2012)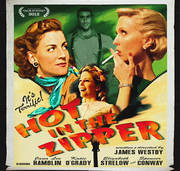 Join director James Westby as he presents the Portland premier of his award winning short "Hot in the Zipper" followed by his Tribecca Film Festival hit "The Auteur."
A raucous screwball comedy set in the apartment of three lovely ladies in 1947 Manhattan, "Hot In The Zipper" was filmed entirely in one unbroken 18-minute take.
Palm Springs International Shortsfest, New York Shortsfest, BendFilm, and many others.
"The Auteur" is a sweet romantic comedy about the world's greatest porn director. Starring Melik Malkasian, John Breen, Katherine Flynn, Katie O'Grady, and Ron Jeremy.
Premiered at the Tribeca Film Festival