& Gearhart Hotel
1157 N. Marion Ave.
P.O. Box 2299
Gearhart, OR 97138
Pub: (503) 717-8150
Contact Us
Tim Snider Band w/guest Blake Noble
Friday, February 15, 2013
7 p.m. |
Free |
All ages welcome
About Tim Snider Band w/guest Blake Noble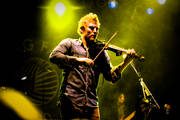 It's been said, "To really know a person, you must first understand where they come from." The story of Tim Snider begins with his great grandfather, Theodore Post, an accomplished composer and violinist from Juilliard and Harvard who made the trek from Boston to Reno to help establish the UNR music department. His daughter, Lois Osborn inherited his affinity for the violin and persistently tried to pass it on to her own children, to no avail. On her deathbed, so the story goes, she held Tim, who was only two weeks old, and proclaimed, "Finally, this will be my violinist." The family brushed the comment off, as she had tried many times to recruit a family member to carry on the tradition.

One morning three years later, Tim, mesmerized by an Itzhak Perlman performance on Sesame Street, ran up to his mother and begged her for violin lessons. Shocked by such a strange request from a three year old, she remembered her mother's words and just about passed out right there in the kitchen. Tim began studying classical violin and couldn't seem to get enough of it. By the time he was six, he was waking up at 5am in order to practice three hours a day and was often first chair in orchestras of kids twice his age. At age 11 he was concertmaster of the Reno Junior Philharmonic and spent most of his time studying up at UNR.
By the ripe old age of 12, he was burnt out from the pressures of classical competition and yearned to play football, hockey, and the other activities that he wasn't able to partake in because he couldn't risk injuring his hands. With 9 years of classical training under his belt, he decided to quit violin and just be a kid. However, it only took six months for music to catch up with him again--this time in the form of a guitar. Rebelling against his classical roots, he started playing in rock bands. He explored many styles: from classic rock, blues and folk, to funk, metal and alternative grunge. Once he had a good handle on his new instrument, he began writing songs emulating his heroes: Ben Harper, Dave Matthews, and Bill Withers. It wasn't until late high school when he met Milton Merlos, a Latin guitar player from El Salvador, that he picked up the violin again--this time to fervently study Flamenco, Cuban Salsa, and West African music. Feeling a strong attraction to these styles, Tim decided to put a hold on college and went to Spain to live and study Flamenco guitar with his friend Milton.
Together the two high school graduates showed up to Madrid with guitars, backpacks and skateboards and eventually settled in Granada, where they lived off one meal a day in a small unheated apartment. They neglected every day comforts like shower curtains and dishes so that they could afford as many music lessons as possible. Tim recalls, "It would get so cold in the apartment that we would take whatever trash we could find and light it on fire by the kitchen window in order to warm our hands enough so we could practice." After studying in Spain and traveling through Europe, the two friends, now broke, returned home to the States. Upon his return, Tim enrolled at UNR on a scholarship and became the first violinist in the jazz department. It was at that time in 2003 when he started Sol'Jibe, a group that blended American roots, world beat, and Latin rhythms into an inspired sound that was dubbed "World Rock,"
Today Tim plays a live looping show that layers his unique personal style on violin with guitar, percussion and vocals into an experience that is inspiring, exciting and always leaves the audience wanting more. In 2010 he released his first EP, "The Delmar Sessions," which Reno Tahoe Tonight describes as "an accomplished exposition of balanced multi-tracking (Snider played all the instruments and self-produced the record) and rich content--exhibiting pace, beauty, texture, dynamics and a humble virtuosity...Snider confidently combines international acoustic polyrhythms ("Earth and Sea"), Latin-infected grooves ("Breathe Deep") with a high desert sonic sensibility ("Keep On"), portraying a gypsy's passion for poetry, movement and story...Less breathy stylistically than Jack Johnson, Ray LaMontagne and Michael Franks, Snider's voice is nonetheless an exceptionally nuanced instrument, with range and color."
In addition to his solo shows, Tim also consistently performs with his band "Tim Snider and Sound Society": a line-up of extremely talented musicians including Jason Thomas on drums, Zack Teran on upright bass and vocals, and Alex Miller on guitar. Their high-energy performance as a group gets people moving and entrances them into an experience like no other. Tim's careful selection of musicians with their own strong voice leads to a completely unique sound that is constantly evolving yet somehow always gets people on their feet and having a good time. Some say all you need to know is that it's just foot-stomping, soul-stirring goodness!
Official Website:




Facebook:




Sol'Jibe Myspace:




YouTube Channel:
Map & Directions
Tags for this Event:
Music:
Alternative/Indie
World Music
Property > Gearhart Hotel & Sand Trap Pub
Related content (tags):