Saloon & Hotel
836 N. Russell St.
Portland, OR 97227
Saloon: (503) 282-6810
Hotel: (503) 335-8900
Contact Us
Lustful Monks
7 p.m. |
Free |
21 and over
About Lustful Monks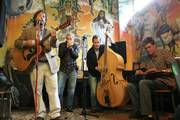 Rising from the back streets and side alleys of historic St. John's Oregon, the Lustful Monks bring fresh instrumentation and lively interpretation to folk, country and bluegrass classics. The Monks play from a liturgy that includes works from the finest singer-songwriters of the last century of American music. Whether they are playing the Rastafarian hymn, "Rivers of Babylon" from the Melodians or an American Country classic from Merle Haggard like, "I'm a Lonesome Fugitive", the Monks offer their own reverent but unique take on these favorites.
The Lustful Monk's spiritual leader is Don Keith. Musicologist, lead vocalist and guitarist extraordinaire, Don seemingly carries a compendium of American music around in his head. He shares these tales of lonesome cowboys, busted con men and wanton women in a soulful voice accompanied by a rich and complex finger-style picked guitar.
Adding some "High-Lonesome' to the Monk's sound is Dr. Mark Walsh on harmonica. Doc brings a chameleon-like ability to weave the melodic sounds of the harp through the music that makes an old familiar folk tune sound fresh and exciting. The soul of the monks has a buoyant stage presence and lends just the right amount of flair to keep things hopping.
From the spiritual to the sublime, Jim Wanamaker grounds the high-flying group with his bourbon-fueled demon picking on the Dobro. The unique tone and tenor of a slide guitar flavors the Monk's music with a distinctly Western sound. Audience enjoys watching for Jimmy's signature "Bridge" move during live performances - it never fails to bring down the house.
Lastly, the bottom end is held in place on the upright bass by Joel Munn. The solid time-keeping and complex melodic patterns created by this one-man rhythm section, ensure the Lustful Monks get to the station on-time, every time.
The Lustful Monks are a complex entertainment brotherhood - their singular purpose is to provide an experience for the listener that will remind you of why you love this type of music. Honestly played, with 100% real instruments and a contagious energy for the love of music, book the Lustful Monks for your venue today!
Map & Directions
Tags for this Event:
Property > White Eagle
Related content (tags):