at Crystal Hotel
303 S.W. 12th Ave.
Portland, OR 97205
Local: (503) 972-2670
Elsewhere: (855) 205-3930
Contact Us
John Phelan (of Truckstop Darlin') w/
Indian Head
Plus Extra Saturday Goodies
Saturday, February 9, 2013
7 p.m. |
Free |
21 and over
Phelan describes Indian Head as "Heavy Harmonies, complex stories are told through simple songs. Featuring members of Riviera, and Tucker Jackson."
About John Phelan (of Truckstop Darlin') w/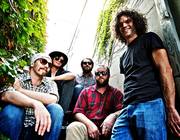 Truckstop Darlin' comes out of the amazing music scene of the Great Northwest, more specifically, Portland, Oregon. Despite being loud and thundering, Truckstop Darlin' wear their hearts on their sleeves; if Wilco grew up listening to Lucero's harder moments, it might sound something like this. Their live shows are a sweaty, fist-pumping riot soaked in cheap beer and whiskey and while most bands who fall under the alt-country umbrella focus more on the country part, Truckstop Darlin' keeps their amps turned up. These boys play honest, driving rock n' roll.
Check 'em out:
About Plus Extra Saturday Goodies
Every Saturday night at Al's Den, we'll have generous samples of a McMenamins beer, wine, and spirits plus a live interview with the band.
Map & Directions
Tags for this Event:
Property > Crystal Hotel
Related content (tags):