4045 N.W. Cornelius Pass Rd.
Hillsboro, OR 97124
(503) 640-6174
Contact Us
Roadhouse Beer Invitational
Aged Effects Fest
Death Star
80/-
The Final Dram of Davy Jones
Night Court Barrel-Aged Barleywine
Special Beer Tasting
6 p.m. 'til 9 p.m. |
Free admission; Limited-edition beer available 'til it's gone! |
All ages welcome; must be 21 to drink
About Aged Effects Fest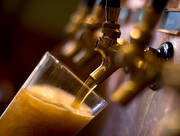 Join us to sample these handcrafted small-batch beers from McMenamins breweries:
Death Star
Cornelius Pass Roadhouse
Hillsboro, Ore.
Brewed with the first-runnings of a massive mash and aged seven months on McMenamins pear brandy soaked oak, this enormous black barley wine drips with rich flavors of candied fig and roast pear balanced with brobdingnagian additions of resinous NW hops.
Malts: Premium Two Row, Optic Pale, Munich, Crystal 75L & 120L, Baird's Black, Carafa II, Flaked Barley
Hops: Centennial, Simcoe
Other: Pear brandy soaked oak spirals
OG: 1.21 TG: 1.035 ABV: 11.09% IBU: 100+ SRM: 30
Buzz words: Massive, Dark Fruits, Complex
80/-
High Street
Eugene, Ore.
The 80/- (shilling) is a traditional Scottish Style Ale. Brown in color, sweet, and lightly carbonated this smoky little treat is perfectly suited for the nitro tap. Aged with Scotch oak spirals, this beer is a malt lovers dream come true and is paired well with the cool dank Oregon winter.
Malts: British Maris Otter, Crystal 135/165, Peated, and Roast
Hops: Goldings
OG: 1.063 TG: 1.009 ABV: 6.9% IBU: 19 SRM: 19
Buzz words: Smoky, Smooth, Subtle
The Final Dram
of Davy Jones
Old Church
Wilsonville, Ore.
This is a heavy scotch ale that was aged within our 'Three Rocks' rum barrel for two months and then cellared for another three months. Hints of smoke and peat mingle with a spice characteristic of the rum while vanilla flavors from the wood dance on your palate. It is dark red in color with a bready grain nose. The beer finishes with hints of smoke, dark fruit and a chewy sweetness on the palate.
Malts: TF&S Golden Promise, TF&S Wheat, TF&S Munich, Briess Smoked Malt, Peated Malt, Franco Belges Caramel Munich 80L, Briess Black Patent, TF&S Biscuit
Hops: Goldings
OG: 1.085 TG: 1.018 ABV: 8.7% IBU: 18 SRM: 19
Buzz words: smoke, sweetness, caramel, dark fruit
Night Court
Barrel-Aged Barleywine
Edgefield
Troutdale, Ore.
You'll have no objections by the time you've finished your glass of this Three Rocks Rum barrel aged iteration of our Barley Legal barleywine. We decided to throw the book at it – and some whole vanilla beans – then put it in lockup for a month. Now that the flavors of vanilla, smooth American oak, spirits and the untamed hop-forward attitude of the original ale have comingled in to a complex and mellow reformed citizen, we're prepared to release it in to society on parole for you to judge.
Malts: Baird's Maris Otter Pale Malt, Briess Barley Flakes, Gambrinus Honey Malt
Hops: Simcoe, Brewer's Gold, Delta, Santiam, Centennial
Additional Ingredients: Vanilla Beans
OG: 1.092 TG: 1.022 ABV: 9.03% IBU: 99 SRM: 9
Buzz words: Strong, Hop-Forward, Barrel-Aged
Map & Directions
Tags for this Event:
Events > Beer, Wine, and Spirits
Property > Cornelius Pass Roadhouse
Related content (tags):