A truly remarkable destination.
2126 S.W. Halsey St.
Troutdale, OR 97060
Local: (503) 669-8610
Elsewhere: (800) 669-8610
Contact Us
Sara Jackson-Holman
7 p.m. |
Free |
21 and over
About Sara Jackson-Holman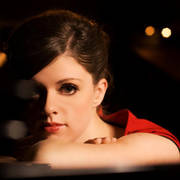 Sara Jackson-Holman, a Portland native, was raised in the quiet town of Bend, Oregon. Her voice is smoky and warm, she sings of the things that fill her head: dreams, the sea, sky, and trees, belonging, loneliness, and love, longing, forgetting, and remembering. Her songs are haunted by the unexpected fusion of the classically influenced piano, wistful strings, strange harmonies, and pop bent.
She fell in love with music at exactly the moment her seven-year-old fingers touched the keys of her family's tired and old spinet piano, and was inspired by composers such as Chopin, Scarlatti, Beethoven, Soler, Schumann, and Bach, and their passion and ability to connect with their audience generation after generation. Performing at countless recitals and competitions, she became a fine classical pianist. From an early age, Jackson-Holman was also in love with reading, beautiful words, good literature, metaphors, and poetry. And ever since she could speak, she loved to sing. In the March of 2008, she began to reconcile her love of piano, poetry, singing, and pop music, and became fascinated with this medium of communication that so happily married her favorite passions.
"Her mesmerizing vocal performance on this record is simply quite stunning. Watch out for this one, she's got true talent waiting to conquer." - Frantikmag.com
"Her voice just wraps around the tempo of song and portrays a picture in your mind as to what the song's lyrics mean. Sara Jackson-Holman could be the next face of modern pop music. Her sound can be described as Lady Gaga simplified." - The Connecticut Record-Journal
"Think of Jackson-Holman as a youthful mash-up of Fiona Apple, Norah Jones and Neko Case. The music is a miasma of symphonic compositions, cabaret and alt-pop. When You Dream is truly enticing and memorable." Entertainment Realm
YouTube Channel:




Facebook:




Myspace:




Official Website:
Map & Directions
Tags for this Event:
Music > Singer/Songwriter
Property > Edgefield
Related content (tags):