An escape into the extraordinary
3505 Pacific Ave.
Forest Grove, OR 97116
Local: (503) 992-9533
Elsewhere: (877) 992-9533
Contact Us
Laurel Brauns
7 p.m. |
Free |
All ages welcome
About Laurel Brauns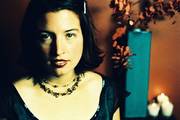 Laurel Brauns' voice can strike you like sunlight shooting through a hundred bits of stained glass. In certain moments it's a multi-hued tremolo, colored with an indefinable accent from... from... from someplace cool and northern -- like the peaty glow of Scotch whisky -- like the singing of a Druid.
With three out of four grandparents from the "olde country" (Ireland), and a lifetime exploring the mountains and rivers of New England and the Pacific Northwest, this indefinable accent is part of the essence of her music. It is rooted actual hyperborean experiences: following the Appalachian Trail through the snow, plunging down the rivers of Oregon and Idaho in a white water kayak in spring waters, and sleeping under the stars by a myriad of alpine lakes, filled with barely melted mountain run-off.
With four albums under her belt, Laurel has embraced a life in the rivers and out on the road, with equal time spent performing around the campfire for fellow rafters and on big stages with the likes of the Portland Cello Project, Weinland, Horse Feathers, and Joan Osborne.
Laurel has toured both coasts for over a decade, on the college and coffeehouse circuits and in little mountain towns where she always finds new friends and old. She found a place to call home in Bend, Oregon, where she has lived for the past four years in a ski cottage, enjoying quiet, snow-fallen winter nights to hone her craft.
After four years embracing the outdoor lifestyle of Central Oregon, Laurel moved back to Portland this fall, the town where she went to college and first found a home away from home. She has a custom 55' Airstream remodel in the works, where she plans to live, work and play beside a bountiful organic garden - with many a Dutch oven cookout nights planned for her friends and bandmates. Downsizing to a trailer (solar panels and water catchment system included) is a move towards sustainability, freedom of travel, and a nod towards the "small is beautiful" paradigm shift -- allowing for the independence to experience many more places and times. It is also an affirmation of her Celtic heritage, and the lifestyle of the ancient itinerant troubadour.
Laurel's most recent album, House of Snow, encapsulates these themes of sustainability and reverence for the outdoors in a beautiful collection of songs, produced and arranged by Douglas Jenkins, the creative director of the Portland Cello Project.
Featuring some of Portland's finest musicians including Jenny Conlee of the Decemberists and Sam Cooper of Horse Feathers, "House of Snow is an indie-folk gem, drawing on the folk rock sounds that have all but dominated indie music in the Northwest for the past few years. Brauns' folk sensibilities shine through an orchestral tapestry as brightly as her trademark streak of blonde hair," said Mike Bookey of The Source Weekly.
Chris Dahlen of Pitchfork.com and Paste Magazine chimes in, "Laurel Brauns writes some of my favorite songs, and the way she sings them makes me shiver. Her new disc is lovely, strong, and haunted, and likely her best yet."
Map & Directions
Tags for this Event:
Property > Grand Lodge
Related content (tags):