30340 SW Boones Ferry Rd
Wilsonville OR 97070
Phone: (503) 427-2500
Fax: (503) 427-2519
Contact Us
The Final Dram of Davy Jones
Highlander Scotch Ale
Meet The Brewer • Special Beer Tasting
5 p.m. 'til beer is gone |
Limited-edition beer tasting at happy hour pricing all night |
All ages; 21 & over to taste
About The Final Dram of Davy Jones
This is a heavy scotch ale that was aged within our 'Three Rocks' rum barrel for four months and then cellared for another two months. Hints of smoke and peat mingle with a spice characteristic of the rum while vanilla flavors from the wood dance on your palate. It is dark red in color with a bready grain nose. The beer finishes with hints of smoke, dark fruit and a chewy sweetness on the palate.
Malts: TF&S Golden Promise, TF&S Wheat, TF&S Munich, Briess Smoked Malt, Peated Malt, Franco Belges Caramel Munich 80L, Briess Black Patent, TF&S Biscuit
Hops: Golding
OG: 1.085 TG: 1.018 ABV: 8.7% IBU: 18 SRM: 19
About Highlander Scotch Ale
This is an 80/- Scottish ale aged three months in a Hogshead whiskey barrel and then cellared for an additional nine months. It was made as traditional as possible using all European base malts and a touch of smoked malt, this beer is a whiskey lovers dream. It is clear burnt orange in color with a white lacey head and has bready caramel nose with hints of smoke, whiskey and leather.
Malts: Thomas Fawcett and Sons Marris Otter Malt, Premium Wheat, Best Malz Munich, Premium Vienna, Briess Smoked Malt, Franco Belges Caramel Munich 120L,
Hops: Sterling and Golding
OG: 1.054 TG: 1.014 ABV: 5.5% IBU: 19.5 SRM: 10
About Meet The Brewer • Special Beer Tasting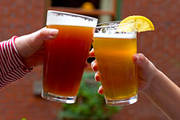 Join us once a month as the brewery unveils another firkin handcrafted ale.
Talk to the brewers, ask beery questions, enjoy happy hour pricing all night long on these limited-edition pints and more.
And when the beer is gone, it's gone.
Map & Directions
Tags for this Event:
Events > Beer, Wine, and Spirits
Property > Wilsonville Old Church & Pub
Related content (tags):