3702 S.E. Hawthorne Blvd.
Portland, OR 97214
Pub: (503) 467-7521
Movie Line: (503) 249-7474 x1
bagdad@mcmenamins.com
The Winding Stream: A Celebration of Country Music's Carter-Cash Family
A Benefit for Completion of the Documentary Film
Filmmaker Beth Harrington
Live Music by Foghorn Stringband
Carter Family Sing-Along
Video Clips
Raffle Prizes
Thursday, January 17, 2013
6 p.m. doors; 7 p.m. show |
$12 advance; $15 day of show; $6 kids 12 and under |
All ages welcome
Buy Tickets
Tickets on sale now!
Featuring:
· live performance by Foghorn String Band
· new clips from the film
· presentation by filmmaker Beth Harrington
· raffle for great prizes
· Carter family sing-along!
About The Winding Stream: A Celebration of Country Music's Carter-Cash Family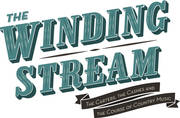 The Winding Stream: The Carters, the Cashes and the Course of Country Music, a presentation by local documentary filmmaker Beth Harrington.
There is a stream that courses through American roots music from which virtually all country music flows. Its source is in the Appalachian foothills in a place called Maces Springs, Virginia. It was there that A.P. Carter, his wife Sara and his sister-in-law Maybelle began their careers as three of the earliest stars of country music. From their earliest days as Victor recording artists to their international success via the phenomenon of Border Radio, the Original Carter Family made their mark on the history of American recorded music.
These three didn't just play the music emerging from their hill country upbringing. They invented it. A.P. was both song collector and composer, crafting and arranging snippets of ancient, musty melodies into commercial American popular music. Maybelle took the then-underplayed guitar and made it into the cornerstone of country instrumentation that we know today. And Sara became the first well-known woman's voice in country music, stamping it with the eerie Gothic quality we find in so much of the country canon.
About Live Music by Foghorn Stringband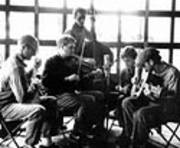 The Foghorn Stringband (composed of local Americana all-stars Caleb Klauder, Sammy Lind, the Rev. P.T. Grover, Kevin Sandri and Brian Bagdonas) features tight intstrumental work and a line-up -- fiddle, banjo, mandolin, bass and guitar -- reminiscent of early bluegrass, but their powerful approach is whole-heartedly Old Time, centered largely by the fiddle. Devoted to the interpretation and performance of American stringband music, their style encompasses early country music, the fiddle repertoire of the Southern Appalachians and the Midwest, and the stringband sounds of the Piedmont region. They are highly regarded by traditional music lovers, and have recently been tapped by one of the country's most renowned musicians of the genre, Dirk Powell, to perform as the Dirk Powell Band. While they are committed to playing authentic old-time music, the members of Foghorn Stringband are not strict recreationists in costume; yet neither are they experimentalists of the digital age. Whether it's on stage in a rock venue, a bluegrass festival, or at a dance in the Grange Hall, they further this great tradition through a profound belief that old-time music, played in a traditional way, is still relevant and very much alive in the 21st century.
Map & Directions
Tags for this Event:
Movie Types > All Ages
Music > Americana
Property > Bagdad
Related content (tags):