& Lola's Room
1332 W. Burnside
Portland, OR 97209
(503) 225-0047
crystal@mcmenamins.com
McMenamins and 101.9 KINK present
Mardi Gras Party!
Cherry Poppin' Daddies
Dr. Theopolis
Urban Sub All Stars
Hurricanes crafted with Edgefield Distillery Three Rocks Rum
Mardi Gras beads
Tuesday, February 12, 2013
7 p.m. doors, 8 p.m. show |
$15 advance, $15 day of show |
21 and over
Buy Tickets
Tickets on sale now!
About Cherry Poppin' Daddies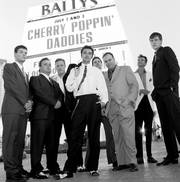 The Cherry Poppin' Daddies celebrated their 20th anniversary in 2009, with the honor of an induction into the Oregon Music Hall of Fame; joining other notables such as Robert Cray and Doc Severinsen.
The Daddies brand of high-energy swing music has for years had the unique ability to bring generations together. It's the only band around where high school aged Psychobilly scenesters and their grandparents can come together dancing in the same audience. As a result, the Daddies have an impressive range of popularity that makes them a hit with colleges, festivals, casinos and fairs. Onstage, the Daddies have enough of an edge to not come off as bland or plastic, and more than enough chops, class and style to satisfy any orthodox jazz fanatic.
The band emerged in the late 80's with a style that wed the energy of contemporary rock and roll with influences from the golden age of the American songbook- the 30's and 40's. Prime compositional influences include: Fletcher Henderson, Jimmie Lunceford, Duke Ellington, and Louis Jordan. In addition to a main course of very hip influences, the Daddies don't hesitate to garnish the plate with touches of more exotic fare: Jamaican Ska, Flamenco, Samba, Rockabilly, Soca, and even Glam Rock!
Their classic album of 1998, Zoot Suit Riot- The Swingin' Hits of the Cherry Poppin' Daddies, went double platinum. Propelled by the mega hit single that has become one of those staples in the canon of fun American pop; Zoot Suit Riot still hangs in there right along side Celebration and YMCA on wedding reception dj's playlists, and sporting events, from sea to shining sea.
The Daddies touring history has included the requisite panoply of swanky, uptown affairs over the years; from the tony Atlantis resort on Paradise Island in the Bahamas, to the Playboy Jazz festival at the Hollywood Bowl, to a performance, sandwiched on a bill between General Colin Powell and Dana Carvey, for hundreds of dot com CEO's at a convention held in a blimp hangar in Silicon Valley!
They have appeared on: The Tonight Show, The Late Show with David Letterman, Dick Clarks New Years Rockin' Eve, The View, and were the sole musical act featured in a tribute to Duke Ellington in an hour long special on American Movie Classics.
After keeping a slightly lower profile over the past several years, while main singer/ songwriter Steve Perry finished up a degree in Molecular Biology, the Daddies have re-emerged with a vengeance, with not one but two albums released in 2009- Susquehanna and Skaboy JFK- The Skankin' Hits of the Cherry Poppin' Daddies.
True to their college town, smarty pants roots (the band resides in Eugene, Oregon; the arty-farty refuge to Ken Kesey, Frank Black, and thousands of militant anti-globalist anarchists) the Daddies released Susquehanna as "a post modern attempt at a concept album, strongly influenced by Jean Luc Godard's classic new wave film, Pierrot le Fou." An elegy to lost love, Susquehanna boasts a kaleidoscopic blend of musical genre's and is receiving critical acclaim for its song craft and ambition from bespectacled folks in the know, such as WCOO's Jim Voigt during his influential Critic's Choice radio show.
In contrast, Skaboy JFK is an exercise almost radically straightforward. While overall a wide-ranging exploration of Ska aimed at an all ages audience, the material at times adopts an uncommonly sophisticated point of view, only to shed it 3 seconds later, as it boomerangs into a scatological warped drive skank-along. The record was penned it would seem, like Portnoy's Complaint, to flatter both a novelists eye as well as the buffoonery of a detention bound 8th grader.
How these dashing gentleman of song and stage manage to stay so energized- pushing to the margins of pop art, and retaining, low these many years, their pre rock and roll classicism and craftsmanship; is a feat so rare (Roxy Music anyone?) that it seems damned brand new.
About Dr. Theopolis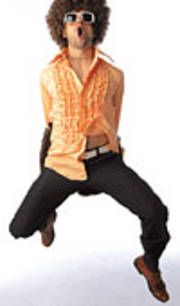 Get up and dance, the Doctor is here to shake you right out of your skirt with his coup de party. Funky? Yes. Sexy? Yes. Smooth? Oh yes. Fabulous? Quite. Delicious? Only the tastiest will do. Come to a Dr. Theopolis show and experience the healing.
Dr. Theopolis has performed live in a wide range of venues from the small McMenamin's White Eagle to the large McMenamin's Crystal Ballroom. Clubs in between consist of Tonic Lounge, Fez Ballroom, Green Room and Cobalt Lounge. The group consists of 8 funky and free boys who are here to make the mood right and get it on. EZ Money steers the ship as the head MC. His bro, Cecil Pimpington follows on vocals and tenor sax. On their right is Mr. Bone Dangles, bass player and backing vocals. Beware his shoes ladies. One is not enough. On the trumpet and keys is A-Bomb, hailing from Eugene by means of the funk highway. Wham and bam then slam some ham. The sexiest man in all of Portland, Notorious PhD, lays down beats like none others. Heads up, backs straight and stand amazed; the guitar world of Dr. T is now in the hands of The Original Doctor (OD). Slipping it to the keyboards is Soft G. Over and over again. The final element in Theopolodium is the man Mr. Fabulous, who channels the-powers-that-be on the dance floor into something as sweet as candy from a lady.
About Urban Sub All Stars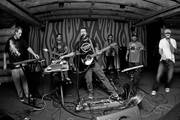 Featuring Tony Smiley, Redwood Son, Will Kinky and Mosley Wotta, Urban Subs blend a fresh mix of funk, Soul, R&B, reggae, and hip-hop to achieve a universally friendly sound. Their vibe creates a fun positive energy that music lovers from all backgrounds can appreciate.
About Hurricanes crafted with Edgefield Distillery Three Rocks Rum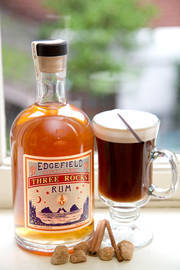 McMenamins Edgefield Distillery has begun rolling out a new spirit - Three Rocks Rum. The label art was designed by McMenamins artist Lyle Hehn, based on the Three Rocks formation off the Oregon coast near Lincoln City.
Three Rocks Rum (40% alcohol, 80 proof) is made from a molasses-rich sugar, fermented and double-distilled at Edgefield Distillery. Three Rocks is a careful blend of rums aged for two years in our own used Hogshead Whiskey and port barrels, leading you to a smooth sipping rum that is delicate, yet still maintains an aromatic complexity with hints of brown sugar, waffle cone and pecans. Subtle flavors of molasses and vanilla lend a finish that is satisfying and lingering.
Map & Directions
Tags for this Event:
Events > Beer, Wine, and Spirits
Music:
World Music
Rock
Alternative/Indie
Property > Crystal Ballroom & Lola's Room
Related content (tags):