Back to school in Bend!
700 N.W. Bond Street
Bend, OR 97703
Local: (541) 382-5174
Elsewhere: (877) 661-4228
Contact Us
Sponsored by Des Chutes Historical Museum and the Oregon Historical Society
Notorious Crimes of Central Oregon
Oregon Encyclopedia History Night
at Old St. Francis
Presented by
Oregon native/performer Alastair Jaques
Tuesday, October 29, 2013
6 pm. doors; 7 p.m. event |
Free |
All ages welcome
About Notorious Crimes of Central Oregon
Come out for an evening of stories from our gritty, less-talked-about past as History Pub explores the underbelly of notorious crimes in Central Oregon's history.
About the Speaker
Actor, lecturer, and native-born Oregonian Alastair Morley Jaques studied theater arts and American literature at the Evergreen State College and the University of Oregon. He freely admits that the two biggest influences on his life are the works of William Shakespeare and NBC's Unsolved Mysteries. In addition to his research and writing on American culture and folklore, he is a full-time voice and stage actor. He lives in Portland, Oregon, where he spends much of his time brooding over the evil men do and drinking illicitly-manufactured alcohol.
About Oregon Encyclopedia History Night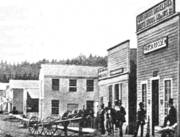 The Oregon Encyclopedia hosts a series of History Nights in collaboration with McMenamins pubs. Come join us for an enlightening evening of history, served up with food and a pint or two of good beer, and find out more about the history and culture of our state from OE authors. Bring your encyclopedia-worthy Oregon stories to share with the OE Editors-in-Chief.
Oregon Encyclopedia website:
Map & Directions
Tags for this Event:
Events > History
Movie Types > All Ages
Property > Old St. Francis School
Related content (tags):