"Portlandia" [2013]
Two screenings! (7 p.m. and 10 p.m.)
Music, bits and gags from REELTIME LIVE! before, between and following
featuring live music by Hello Lobster
5:30 p.m. doors | Screenings 7 and 10 p.m. | ReelTime Live 6, 9 and 11 p.m. |
Free |
First screening minors with parent; 21 and over thereafter
About "Portlandia" [2013]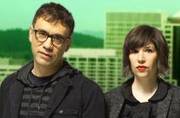 In case you're one of the few Portlanders who isn't all over this...
This IFC Original short-based comedy series Portlandia was created, written by and stars Fred Armisen (Saturday Night Live) and Carrie Brownstein (vocalist/guitarist, Wild Flag, Sleater-Kinney). Each episode's character-based shorts draw viewers into Portlandia, the creators' dreamy and absurd rendering of Portland, Oregon.
"I love Portlandia. It really represents so much of what I love culturally, musically and in so many other ways," said Fred Armisen. "This started as just a fun summer activity for Carrie and me. We'd be hanging out in Portland and shooting whatever made us laugh, and that evolved into Portlandia." Portlandia's inhabitants include but are not limited to: the owners of a feminist book store; a militant bike messenger; an artsy couple who attach cut-outs of birds to everything ("put a bird on it!"); an organic farmer who turns out to be a cult leader; an adult hide and seek league; and a punk rock couple negotiating a "safe word" to help govern their love life.
Brownstein and Armisen spent years observing the joyous eccentricities of Portland, Oregon (when Fred was on hiatus from Saturday Night Live), which spawned their Thunderant project, a compilation of online videos that combined their unique music styles and comedic sensibilities. Their artistic collaboration garnered an online cult following, as their Thunderant characters resonated with a young audience celebrating individuality, free spirit and weirdness.
video:




ifc.com:
About Music, bits and gags from REELTIME LIVE! before, between and following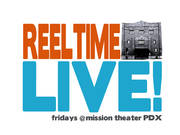 Bringing back the golden age of the theater-going experience, "Reeltime Live!" is a hilarious entertainment-filled variety show featuring the best of up and coming comedians, bands and entertainment personalities. Airing before and after film, television and special screenings, "Reeltime Live!" is sure to bring back the fun of going out again. Leave your DVR's at home and we'll see you at the movies!
- Music from Afroknot
- The Return of featured musical guest Hello Lobster
- Portland World News w/ Danny Norton
- Raffle
- Interviews
- Music Videos by "Eye Candy VJ"
- special guests Blank TV
About featuring live music by Hello Lobster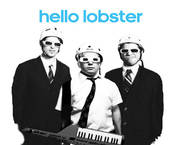 We come from Planet Lobster. We crash landed on earth in 2001. We seem to be stuck here with shitty plastic keyboards and 3D glasses. We wanna go home.
website:




video:
Map & Directions
Tags for this Event:
Music:
Groove/Jam
Dance Party
Rock
Alternative/Indie
Property > Mission Theater
Related content (tags):