Boy Eats Drum Machine
Will West
Friday, December 28, 2012
Free |
9 p.m. |
21 and over
About Boy Eats Drum Machine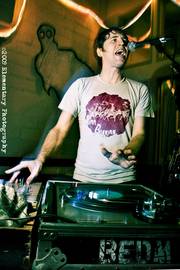 Boy Eats Drum Machine is a singular figure of the West. He does things his own way, thank you very much, and does those things well enough to run his own one-man gang. Sometimes his voice is low and dry like the great Oregon deserts. Other times it resonates warmly, as though reflecting off the hills. He's a turntablist's turntablist, robbing breaks and sound textures from vinyl even after most of his contemporaries switched to laptops. He often mixes together twangy guitars, soulful blasts of tenor saxophone, and bassy, soundtrack worthy, analog synth. He's an artist-outlaw.
His shows feature a mixture of multi-instrumental-turntable-wizardry and performance art, as he moves effortlessly from sax, to drum, to dj station. BEDM audiences are comprised of ferociously moving bodies, curious onlookers, and shining faces nodding in time to expertly placed beats. His songs are succinct, interesting, and strut into jammy terrain only on such occasions that call for it. Though Boy Eats Drum Machine has his finger on the sample button, his sound remains distinctively organic. His home-spun compositions set a cozy table, with tales of escape nibbling at your heart strings.
"BEDM sounds like a jazz-electronic fusion on record and looks like a well-synchronized dance on stage." Seattle Weekly
"a one-man circus, freakishly talented at playing every instrument you thought you could play, at the same time."
Willamette Week
"BEDM is super high-energy and has great stage presence."
PDX Pipeline
"Boy Eats Drum Machine's one man performance was a sight to behold."
Live PDX
BEDM has also received a healthy dose of civic attention for his Cure/Talking Heads 'live mashups' (which culminated in a live show at Portland's Wonder Ballroom with a backing band featuring Dave Allen of Gang of Four fame on bass), his Portland Trailblazers 'Blazers Theme', as well as two Radiohead remixes.
Jon Ragel started to make recordings under the name Boy Eats Drum Machine in 2001 when he used a 4 track to record and load his MPC with scads of samples, creating blippy pop experimentations. He wanted to evoke the idea of pac man and the music of the NES game metroid. He sold his mpc and switched exclusively to computer-based recordings a couple years later.
The fall of 2005 saw Jon using his new found love for the turntable for the first time in a full length recording. He spun and chopped up breaks to create the backbones of the songs that would form Pleasure. Many of these beats were sampled from Bridgetown Breaks Volume 1. He recorded Two Ghosts 12/06-3/07. It was released the summer of 2007 and featured many talented portland area musicians.
Check it:
Website:
About Will West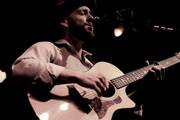 Carolina-born songwriter Will West performs with a rotation of acoustic musicians called The Friendly Strangers, featuring an array of fantastic Portland players on banjo, cello, mandolin, horns, percussion and other surprises. Together they create a signature acoustic sound blending Old Time Roots and Folk Influences with Modern Inspirations & Positive Vibes. They tend to improvise and experiment, and they have a great time doing it.
One the 2nd Wednesday of each Month, Will West joins us with a guest member of The Friendly Strangers Band. Music starts at 8pm with a fun blend of original songs and cover tunes in a fun, casual setting.
Will West & The Friendly Strangers released their debut album called "Take this Moment" in January of 2011. Songs have been featured on KINK FM101.9 & KZME FM107.1 in the greater Portland area. The song "Understand" was featured on the KINK FM Local's Only Sampler Volume 4 in the summer of 2011. The album was recently launched as a new station on Pandora Radio.
The son of a fiddle player, West cites Old-Time Bluegrass, Blues and Heavy Metal music as some of his early influences. West moved to Portland in the summertime of 2002 and began cutting his teeth as a performer at Open-Mics and busking in Northwest Portland. He picked up his first formal gigs in 2004 and has been on a steady rise in the vibrant Northwest Music scene.
Will West has released 2 solo albums. A collection of live studio recordings called "Reconstruction" in 2004. As well as a full length studio album called "Shine" in 2007.
His live performances continue to evolve and change. As a solo performer or with variations of a band, West pulls off fantastic acoustic guitar playing with smoothly delivered vocals and harmonica. Every show is an experience and it's all about the vibe...
"The Friendly Strangers are a formidable ensemble, boasting fiddles, banjos and mandolins, all guided by West's casual ringleading" - The Portland Mercury ~ Up&Coming
"He incorporates rootsy, acoustic folk with a bluesy, almost hip-hop-like sense of rhythm. West is a funky, acoustic pop songsmith with a flare for lyricism and rich melodies." - Post & Courier (Charleston, SC)
"West's clean guitar and polished voice feel like warm sunshine through a car window." - Independent Weekly (Raleigh, NC)
"A favorite of those Delta Blues/Folk lovin' Types. Never performing a song the same way twice. This crooner is a storyteller with a soft touch. Check him out. " - Willamette Week
website:




MySpace page:
Map & Directions
Tags for this Event:
Property > Boon's Treasury
Related content (tags):