Saloon & Hotel
836 N. Russell St.
Portland, OR 97227
Saloon: (503) 282-6810
Hotel: (503) 335-8900
Contact Us
Lefty & the Twin
Clinton Agresti
Bevelers
Howl & Wild
Tuesday, December 4, 2012
8:30 p.m. |
Free |
21 and over
About Bevelers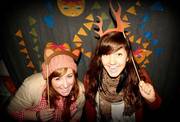 Bevelers are Adria Ivanitsky (Salem, OR), and Lee Aulson (Peabody, MA). The indie folk musical duo started in November 2011 following the release of their first demo.
Lee is an art school grad from Mass College of Art + Design 11' and a previous Mile Post 5 resident. During her college time she explored drawing, performance art, event production and art education. She has done past Boston shows at the Middle East with, Rachael Cantu (LA) 06', NHIA w/ Via Audio, Arms and Legs 06', Lily Pad w/ Coyote Kolb 10'.
Adria started her musical footing in school choir and beside her talented mother, Dora. She has fanned out her experiences in various instruments including harp, guitar & piano[at age 4] among many others.
Adria and Lee got started as co-workers at Vivace Coffee Shop where they made crepes and served coffee.
Bevelers currently reside in Portland and are collaborating with numerous artist and developing their harmonious sound. Currently Bevelers are working with musician/sound engineer Johnny Keener for backups on his new album at Sidecar Studios.
Bevelers are set to release an album in mid-Summer/early-Fall 2012. They have also been review by Galen Pepys saying,
"Ivanitsky and Aulson are two willow wisps that might evaporate into dying light if we sneeze, so we sat cross-legged as Bevelers transcended heartache into sleepy kisses in the morning." -Galen Pepys
Facebook page:
Map & Directions
Tags for this Event:
Music:
Americana
Alternative/Indie
Property > White Eagle
Related content (tags):