Come have fun in school... for once...
5736 N.E. 33rd Ave.
Portland, OR 97211
Local: (503) 249-3983
Elsewhere: (888) 249-3983
Contact Us
Celilo Falls Revisited
With Linda George Meanus, Chuck Williams & Thomas Robinson
History Pub Monday at Kennedy School
7 p.m. |
Free |
All ages welcome
About Celilo Falls Revisited
Presentations by:
Linda George Meanus, Tribal Elder, Confederated Tribes of Warm Springs; granddaughter of Chief Tommy Thompson and Flora Thompson.
Chuck Williams, Cascade Indian Elder from the Western Columbia River Gorge; photographer; author of Bridge of the Gods, Mountains of Fire: A Return to the Columbia Gorge
Thomas Robinson, Historian, photo archivist, Confluence Project photography curator
This special program presents keen perspectives, new historical information as well as stunning, rare images and film clips of this sacred and ancient Native American site, up to its destruction in 1957 to make way for Columbia River dam development.
About History Pub Monday at Kennedy School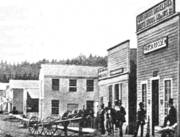 Join us for beer and history, sponsored by the Oregon Historical Society, Holy Names Heritage Center and McMenamins, in which you'll hear lively local or regional history while you enjoy a frosty pint or two of handcrafted ale.
Map & Directions
Tags for this Event:
Events:
Beer, Wine, and Spirits
History
Property > Kennedy School
Related content (tags):