Professor Monkey Puzzle's World of Quizzery and Pub Quiz USA Proudly Present
Hammerhead Quiz Show: The fabulous OSCARS edition
Sunday, February 17, 2013
6:30 p.m. doors; 7 p.m. show |
$6 per person in advance; $8 at the door |
21 and over
Buy Tickets
Tickets on sale now!
About Hammerhead Quiz Show: The fabulous OSCARS edition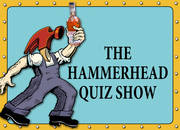 Fabulous Prizes including concert tickets, movie tickets and an overnight package to McMenamins properties for each member of the winning team!
A Comedy Show + Team Trivia Rolled Into One!
It's a comedy show. It's a pub quiz. It's both! You've never experienced live trivia like this before. Bring your team of one to six people to compete in rounds designed to both entertain and challenge you with live action skits, videos, music, and an assortment of interesting (but not too difficult) quiz questions, all hysterically performed by a comedy troupe that channel the McMenamins family of brews that magically come to life! Best of all, you don't even need to win the game to win fabulous prizes. Your player receives a drawing ticket that could win you concert tickets, movie tickets, and a whole lot more.
For our special ACADEMY AWARDS edition, we will pay special homage to past and present Oscar winners and nominees for our extra-special Mysteriously Brilliant round, as well as feature clips from Oscar-winning movies and actors that perhaps should never have deserved the award. For example: the luke-warm flick Shakespeare in Love won best picture over Saving Private Ryan in 1998, and why the hell hasn't Liam Neeson ever won an Oscar, when he's in practically every thriller made in the last decade?
OVERVIEW: What makes the Hammerhead Quiz Show different than a weekly pub quiz game is that it presents trivia visually, using video, music, and live action to create scenes from which the trivia is based. Think skit comedy show meets competitive pub quiz play. And instead of earning points, teams win HammerBucks for every correct answer scored. The Bucks can either buy your team's way into the final challenge round or saved up for use toward future monthly shows to purchase Hammer novelty items, food, beverages, or McMenamins t-shirts. PLUS, throughout the game, there are several prize drawings for individual players. Someone could take home a pair of concert tickets, McMenamins items, or food prizes just for showing up!
GAMEPLAY: Round one begins with 20 questions, and is bookended by hilarious skits and video segments to keep you entertained. Our round 2 is a video round that varies in content each month. Our "Mysteriously Brilliant" Round 3 is a mini-play, with a cohesive story arc with trivia questions prompted on screen. The brilliant improvisational comedy actors on stage keep audience members in stitches!
WINNING THE GAME: For each question a team gets right, they earn one Hammerbuck. Hammerbucks buy teams into the final challenge round, called "Three Pops and You're Out." Teams must get each question right to stay in the game, and if they get it wrong, one of their three balloons is popped. Three pops, and the team is out! The team left standing becomes the Hammerhead Champion Team for the month, with the team name proudly placed on the Golden Hammer Trophy, and each member of the winning team winning an overnight stay to the Crystal Hotel, the Grand Lodge, or other McMenamins properties.
About Pub Quiz USA
Pub Quiz USA is a purveyor of fine pub quiz products based in the Portland area. Visit www.pubquizusa.com for more information and to find a weekly pub quiz near you.
website:




video:
Map & Directions
Tags for this Event:
Property > Mission Theater
Related content (tags):