Fundraiser for the
PDX African American Film Festival
Dar He: The Lynching of Emmett Till [2012]
Julian Bond: Reflections from the Frontlines of the Civil Rights Movement [2012]
Tuesday, November 27, 2012
6 p.m. doors; 7 p.m. event |
$5 per person |
Minor with parent or guardian
About PDX African American Film Festival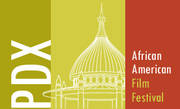 Special screenings of two remarkable and important new films that bring viewers into the core of the Civil Rights Movement in this country. Introductions by Ron Craig, Founder and Executive Director of the PDX African American Film Festival.
The PDX African American Film Festival, now in its 4th year, will be screened at McMenamins' Portland-area theaters. The Festival, a non-profit organization, is the creation of filmmaker Ron Craig, founder of the Astoria International Film Festival. Its mission is to provide a forum for African American film and filmmakers and celebrate their depth, contributions and history.
PDX AAFF website:




Astoria International Film Festival website:
About Dar He: The Lynching of Emmett Till [2012]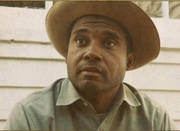 In an acting tour de force, one man performs 36 roles in the telling of the Emmett Till tragedy. Experience the story, trial, and unbelievable confessions of those accused of Emmett's murder in this riveting drama.
"His death was a spark that ignited the Civil Rights Movement in America."
– Ed Bradley, Emmy Award-winning journalist
Dar He: The Lynching of Emmett Till is the true story crafted from the public record: a transfixing, true dramatization of the historic interviews and events surrounding the murder that became a lightning rod for moral outrage and pivotal in inspiring a whole generation of young people to commit to social change in the 1950s.
The film was adapted from the acclaimed one-man play written and performed by Mike Wiley, similarly titled, Dar He: The Story of Emmett Till.
About Julian Bond: Reflections from the Frontlines of the Civil Rights Movement [2012]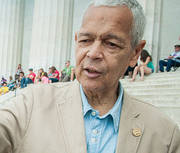 A Film by Eduardo Montes-Bradley, this enlightening portrait joins African American social activist Julian Bond as he traces his roots back to slavery. A leader in the Civil Rights Movement, Julian Bond was among the founders of the Student Nonviolent Coordinating Committee, a leader of the 1963 March on Washington, and a Georgia legislator for twenty years. Now in his seventies, Bond recalls the experience of growing up in the segregated south, where his parents' belief in hard work and education lifted the family out of what he describes as an apartheid system. An erudite, well-spoken man, audiences visit his classroom at the University of Virginia where he shares with a new generation the turbulent years of the Civil Rights Movement. Julian Bond's recollections chronicle several turbulent decades of American history, as society was evolving to allow more opportunity to African Americans. An essential documentary for African American Studies, American History, and Sociology courses.
Map & Directions
Tags for this Event:
Events > History
Property > Mission Theater
Related content (tags):