3702 S.E. Hawthorne Blvd.
Portland, OR 97214
Pub: (503) 467-7521
Movie Line: (503) 249-7474 x1
Contact Us
The Terminator (R) [1984]
Happy 27th Birthday, Terminator Stout!
Monday, November 19, 2012
8:15 p.m. doors; 8:45 p.m. film |
Free |
21 and over
About The Terminator (R) [1984]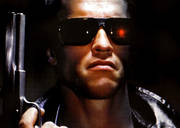 A cyborg is sent from the future on a deadly mission. He has to kill Sarah Connor, a young woman whose life will have a great significance in years to come. Sarah has only one protector – Kyle Reese – also sent from the future. The Terminator uses his exceptional intelligence and strength to find Sarah, but is there any way to stop the seemingly indestructible cyborg?
About Happy 27th Birthday, Terminator Stout!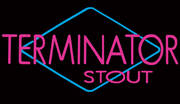 Happy Birthday, Terminator! This stalwart stout was born at the Hillsdale Pub – but today, November 19, we celebrate it EVERYWHERE!
Head to your nearest McMenamins for the following specials, available all day long...
• Pints of Terminator for $2.50 (all locations)
• Bottles of Terminator for $4.50 (all Oregon locations) to-go only
• Soup of the Day: Terminator Chili
• Special: Terminator Sausage Chili Dog topped with onions and cheddar cheese $9 – with pint of Terminator $11.50
And more fun can be had at the Hillsdale Brewery & Public House
• Brewery tours from 3 p.m. 'til 6 p.m.
And even more fun can be had at our theater-pubs...
• Original The Terminator [1984] playing for the free at the Bagdad Theater and at the Old Church in Wilsonville
• At the Mission Theater, The Terminator [1984] will screen as the late showing – your $4 ticket includes a pint of Terminator
And on Facebook, etc....
• All day long there will be Terminator and beer trivia on the McMenamins Pubs, Hotels & Breweries Facebook page where the first correct answers will win Terminator shirts, hats and more
• Check in using your smartphone at your favorite pub for a free side of tots or fries
• Take pictures with a pint of Terminator and post to the McMenamins Facebook page
Special Terminator Birthday Brews
Old Church: Habanero Terminator
West Linn: Oaked Terminator
John Barleycorns: Terminator on Nitro-tap
Edgefield Power Station: Whiskey Barrel-aged Terminator
Edgefield Distillery Bar: Whiskey Barrel-aged Terminator
Mill Creek: Black Owl (Oak & Whiskey Conditioned Terminator)
Ringlers: Fireball & Oak Conditioned Terminator
High Street: Nitro Whiskey & Oak Terminator
North Bank: Nitro Whiskey & Oak Terminator
Kennedy School Detention Bar: Vanilla Terminator
Old St. Francis Pub: Chocolate & Vanilla Terminator
Roseburg Station: Coconut Rum & Oak-Infused Terminator
Roseburg Station: Terminator on Nitro-Tap
Map & Directions
Tags for this Event:
Events > Beer, Wine, and Spirits
Property > Bagdad
Related content (tags):