at Crystal Hotel
303 S.W. 12th Ave.
Portland, OR 97205
Local: (503) 972-2670
Elsewhere: (855) 205-3930
Contact Us
Sam Eliad
Plus Extra Saturday Goodies
Saturday, December 22, 2012
7 p.m. |
Free |
21 and over
About Sam Eliad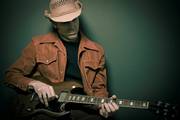 Hailing from Gene Autry, Oklahoma, singer-songwriter Sam Eliad is currently making a name for himself along the West coast with his unique blend of heartfelt Americana folk-rock and high energy live performances. Growing up with musical parents, Sam was exposed to songs ranging from Hank Williams to Bob Dylan to old spirituals his family would sing around the house. His first guitar (a beat 1926 Gibson L-1 with a gaping hole in the side) was a gift from his grandmother Graminika who used to lead the choir in Gene Autry. Sam's mother, Izzy, taught Sam his first chords and got him to sing harmonies to anything that would come on the radio in their house or in their old pickup when driving from the ranch to town. It was during these years that Sam became familiar with the fingerpicking and slide stylings of greats such as Blind Willie Johnson and Reverend Gary Davis, two artists whose influence can be felt in Sam's guitar playing.
Once Sam graduated high school he caught a greyhound bus to San Francisco with plans to go to college but instead he began busking and playing cafes to make a living. It wasn't until he settled in Portland, OR, that he put his band together and began touring clubs along the west coast, later venturing into the mid-west and east coast club scenes. His writing has often been compared to the likes of Townes Van Zandt or a modern day Neil Young, but with the occasional pop elements thrown in conjuring more of an "Indiecana" sound.
His self titled debut release, is due out in the Fall of this year.
About Plus Extra Saturday Goodies
Every Saturday night at Al's Den, we'll have generous samples of a McMenamins beer, wine, and spirits plus a live interview with the band.
Map & Directions
Tags for this Event:
Music > Americana
Property > Crystal Hotel
Related content (tags):