Happy 27th Birthday, Terminator!
Monday, November 19, 2012
11 a.m. 'til late |
$2.50 pints of Terminator plus food specials and more |
All ages welcome
About Happy 27th Birthday, Terminator!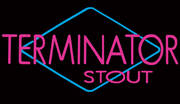 Happy Birthday, Terminator! This stalwart stout was born at the Hillsdale Pub – but today, November 19, we celebrate it EVERYWHERE!
Head to your nearest McMenamins for the following specials, available all day long...
• Pints of Terminator for $2.50 (all locations)
• Bottles of Terminator for $4.50 (all Oregon locations) to-go only
• Soup of the Day: Terminator Chili
• Special: Terminator Sausage Chili Dog topped with onions and cheddar cheese $9 – with pint of Terminator $11.50
And more fun can be had at the Hillsdale Brewery & Public House
• Brewery tours from 3 p.m. 'til 6 p.m.
And even more fun can be had at our theater-pubs...
• Original The Terminator [1984] playing for the free at the Bagdad Theater and at the Old Church in Wilsonville
• At the Mission Theater, The Terminator [1984] will screen as the late showing – your $4 ticket includes a pint of Terminator
And on Facebook, etc....
• All day long there will be Terminator and beer trivia on the McMenamins Pubs, Hotels & Breweries Facebook page where the first correct answers will win Terminator shirts, hats and more
• Check in using your smartphone at your favorite pub for a free side of tots or fries
• Take pictures with a pint of Terminator and post to the McMenamins Facebook page
Special Terminator Birthday Brews
Old Church: Habanero Terminator
West Linn: Oaked Terminator
John Barleycorns: Terminator on Nitro-tap
Edgefield Power Station: Whiskey Barrel-aged Terminator
Edgefield Distillery Bar: Whiskey Barrel-aged Terminator
Mill Creek: Black Owl (Oak & Whiskey Conditioned Terminator)
Ringlers: Fireball & Oak Conditioned Terminator
High Street: Nitro Whiskey & Oak Terminator
North Bank: Nitro Whiskey & Oak Terminator
Kennedy School Detention Bar: Vanilla Terminator
Old St. Francis Pub: Chocolate & Vanilla Terminator
Roseburg Station: Coconut Rum & Oak-Infused Terminator
Roseburg Station: Terminator on Nitro-Tap
Map & Directions
Tags for this Event:
Events > Beer, Wine, and Spirits
Property > Hillsdale Brewery & Public House
Related content (tags):