Great Northwest Music Tour
Red Wanting Blue
Plus an interview with the band, beer samples and free apps!
As part of the Crystal Birthday Celebration
6 p.m. interview; about 6:30 p.m. music |
Free |
21 and over
Every month the Great Northwest Music Tour blazes a fresh musical trail, bringing an ever-changing lineup of talent to McMenamins Historic Properties. There is no admission charge to the festivities, and our unique hotels offer food, handcrafted beverages and a cozy place to bed down after the last note is played. Bring your friends and family and jam to a different artist every month.
About Red Wanting Blue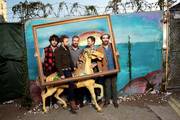 Led by singer-songwriter Scott Terry, Red Wanting Blue is proudly based in Columbus, Ohio, but might as well be America's local band. For years, the group had been hiding in plain sight as Terry went about logging thousands of miles on the road throughout the nation's heartland, making fans the hard way - one at a time.
With only the aid of word of mouth, hard work and perseverance, Red Wanting Blue has established an exceedingly loyal following in and around the Midwest where the band regularly fills clubs normally reserved for bigger names.
Terry's passionate and poetic songs, anchored by his powerful baritone, are the kind of tunes that could only have been written by a man who has lived this kind of life on the road. It's these songs and Terry's moving delivery of them that knocks 'em dead, but leaves 'em talking. Most importantly, it keeps 'em coming back for more. Traveling with Terry are band mates Mark McCullough (Bass Guitar, Vocals), Greg Rahm (Keys, Guitars, Organ, Vocals), Eric Hall Jr. (Guitars, Lap Steel, Mandolin, Banjo, Vocals) and Dean Anshutz (Drums, Percussion, Glockenspiel), who together build the unshakable rock powerhouse that has helped bring Red Wanting Blue to nationwide attention after all of this time.
Red Wanting Blue's upcoming studio recording From The Vanishing Point (Jan. 10th, Fanatic Records) is a coming-of-age album for the band and its first to be recorded for a label after several self-released records. Picking up where its autobiographical previous release These Magnificent Miles left off, From The Vanishing Point is the answer to those whose heads have been turning to ask, "Who is this band?" The album sheds some of Red Wanting Blue's small-town sensibilities as it evolves into the world-class rock n' roll outfit that audiences have believed in for years and marks an official move to the national stage for a band that will always remember where it's from.
Press Quotes:
"...enduringly bright, promising and wonderful." - Blurt
"...delivered with such conviction that you don't doubt it for a second." - Performing Songwriter
"...sums up everything anyone is trying to say in pop music today..." - The Aquarian
"...often stunning, always inviting, and shows a band you can trust in full flower." - Foxy Digitalis
"I've already played it seven times in a row, and it looks like it'll go an eighth... ninth, and most likely fifteenth time before I'm done here." - The Front Loader
"We're talking some seriously high caliber musicians folks. One song in and I was hooked. They proceeded to blow me away song by song." - Quirky New York Chick
"I've made them an exception to my no-majors rule because this album is damn good." - Berkeley Place
Website:
About Plus an interview with the band, beer samples and free apps!
Tonight we also have samples of a special limited-release beer, chats with the Crystal Ballroom brewers, and a live, onstage interview with the band.
Map & Directions
Tags for this Event:
Music > Rock
Property > Crystal Ballroom Property
Related content (tags):