& Lola's Room
1332 W. Burnside
Portland, OR 97209
(503) 225-0047
crystal@mcmenamins.com
McMenamins and PDXJazz present
Galactic
featuring Corey Glover (of Living Colour)
w/ special guests LATYRX feat Lyrics Born & Lateef the Truthspeaker
Saturday, February 23, 2013
8:30 p.m. doors, 9:30 p.m. show |
Main floor: $25 advance, $28 day of show | Limited mezzanine GA seats: $30 adv., $32 D.O.S. |
All ages welcome (Mezzanine is 21 and over)
Buy Tickets
Tickets on sale now!
Galactic is proud to announce the February 2013 "Freeze Out Tour" which will embark from Mardi Gras in New Orleans before heading out west. The band will be joined by alternative hip-hop group LATYRX featuring Lyrics Born & Lateef the Truthspeaker. The groups have a history of collaborating together, most notably on Galactic?s album ?From the Corner to the Block?. LATYRX will open eleven of the sixteen shows on the tour and can be expected to join Galactic for portions of their set along with guest vocalist Corey Glover (of Living Colour). After a stop in St. Louis at The Pageant the tour will head west with 2-night-stands in Denver and San Francisco. Galactic continues to tour on the strength of their modern Mardi Gras themed album Carnivale Electricos.
The band recently launched their first ever fan remix contest for the song Ha Di Ka (feat. Chief Juan Pardo & The Golden Comanche), in partnership with the popular remix platform Indaba Music. After over 1,000 entries, the top three remixes will be featured as a exclusive remix EP free download via Relix.com on Jan 7th.
About Galactic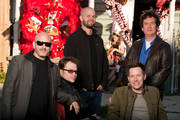 It's incredible that GALACTIC has never made a carnival album yet, but now it's here.
To make CARNIVALE ELECTRICOS, the members of GALACTIC (Ben Ellman, harps and horns; Robert Mercurio, bass; Stanton Moore, drums and percussion; Jeff Raines, guitar; Rich Vogel, keyboards) draw on the skills, stamina, and funk they deploy in the all-night party of their annual Lundi Gras show that goes till sunrise and leads sleeplessly into Mardi Gras day.
Check out some tunes from Carnivale Electricos!
GALACTIC was formed eighteen years ago in New Orleans, and they cut their teeth playing the biggest party in America: Mardi Gras, when the town shuts down entirely to celebrate. CARNIVALE ELECTRICOS is beyond a party record. It's a carnival record that evokes the electric atmosphere of a whole city - make that, whole cities - vibrating together all on the same day, from New Orleans all down the hemisphere to the mighty megacarnivals of Brazil. Armed with a slew of carnival-ready guests-including Cyril and Ivan Neville, Mystikal, Mannie Fresh, Moyseis Marques, Casa Samba, the KIPP Renaissance High School Marching Band, and Al "Carnival Time" Johnson (who remakes his all-time hit)-GALACTIC whisks the listener around the neighborhoods to feel the Mardi Gras moment in all its variety of flavors.
***
CARNIVALE ELECTRICOS begins on a spiritual note, the way Mardi Gras does in the black community of New Orleans. On that morning, the most exciting experience you can have is to be present when the small groups of black men called Mardi Gras Indians perform their sacred street theater. Nobody embodies the spiritual side of Mardi Gras better than the Indians, whose tambourines and chants provide the fundament of New Orleans carnival music. These "gangs," as they call them, organize around and protect the figure of their chief. The album's keynote singer, BIG CHIEF JUAN PARDO, is, says Robert Mercurio, "one of the younger Chiefs out there, and he's become one of the best voices of the new Chiefs. Pardo grew up listening to the singing of the older generation of Big Chiefs, points out Ben Ellman, and "he's got a little Monk [Boudreaux], a little Bo Dollis, he's neither uptown nor downtown."
On "Karate," says Ellman, the band was aiming to "capture the power" of one of the fundamental musical experiences of Mardi Gras: "a marching band passing by you." The 40-piece KIPP Renaissance High School Marching Band's director arranged up GALACTIC's demo, then the band rehearsed it until they had it all memorized. The kids poured their hearts into a solid performance, and, says Mercurio, "I think they were surprised" to hear how good they sounded on the playback.
Musical energy is everywhere at carnival time. "You hear the marching bands go by," says Mercurio, moving us through a Mardi Gras day, "and then you hear a lot of hiphop." There hasn't been a Mardi Gras for twenty years that hasn't had a banging track by beatmaker / rapper MANNIE FRESH sounding wherever you go. "You can't talk about New Orleans hiphop without talking about MANNIE FRESH," says Ellman. His beats have powered literally tens of millions of records, and he and GALACTIC have been talking for years about doing something together. On "Move Fast," he's together with multiplatinum gravel-voiced rapper MYSTIKAL, who is, says Ellman, "somebody we've wanted to collaborate with forever. It was a coup for us."
Out in the streets of New Orleans, you might well hear a funky kind of samba, reaching southward toward the other end of the hemispheric carnival zone. There has for the last twenty-five years been a smoking Brazilian drum troupe in town: CASA SAMBA, formed at Mardi Gras in 1986. They're old friends of GALACTIC's from their early days at Frenchmen Street's Café Brasil, and the two groups joined forces for a new version of Carlinhos Brown's "Magalenha," previously a hit for Sérgio Mendes.
But the Brazilian influence on CARNIVALE ELECTRICOS goes beyond one song. "When we started this album, we all immersed ourselves in Brazilian music and let it get into our souls," says Mercurio. The group contributed three Brazilian-flavored instrumentals, including "JuLou," which riffs on an old Brazilian tune, though the name refers to the brass-funk Krewe of Julu, the "walking krewe" that Galactic members participate in on Mardi Gras morning. After creating the hard-driving track that became "O Côco da Galinha," they decided it would be right for MOYSÉIS MÁRQUEZ, from the São Paulo underground samba scene, who collaborated with them and composed the lyric.
If you were GALACTIC and you were making a carnival album, wouldn't you want to play "Carnival Time," the irrepressibly happy 1960 perennial from the legendary Cosimo Matassa studio? Nobody in New Orleans doesn't know this song. The remake features a new performance in the unmistakable voice of the original singer, AL "CARNIVAL TIME" JOHNSON, who's still active around town more than fifty years after he first gained Mardi Gras immortality.
The closing instrumental, ,"Ash Wednesday Sunrise," evokes the edginess of the post-party feeling. The group writes, "There is the tension you feel on that morning -- one of being worn out from all of the festivities and one of elation that you made it through another year."
But, as New Orleanians know, there's always another carnival to look forward to, and GALACTIC will be there, playing till dawn and then going to breakfast before parading.
***
GALACTIC is a collaborative band with a unique format. It's a stable quintet that plays together with high musicianship. They've been together so long they're telepathic. But though the band hasn't had a lead singer for years, neither is it purely an instrumental group. GALACTIC is part of a diverse community of musicians, and in their own studio, with Mercurio and Ellman producing, they have the luxury of experimenting. So on their albums, they do something that's unusual in rock but not so controversial an idea in, say, hiphop: they create something that's a little like a revue, a virtual show featuring different vocalists (mostly from New Orleans) and instrumental soloists each taking their turn on stage in the GALACTIC sound universe.
Mostly the band creates new material in collaboration with its many guests, though they occasionally rework a classic. Despite the appearance of various platinum names on GALACTIC albums, they especially like to work with artists who are still underground. If you listen to CARNIVALE ELECTRICOS together with the two previous studio albums (YA-KA-MAY and FROM THE CORNER TO THE BLOCK), you'll hear the most complete cross-section of what's happening in contemporary New Orleans anywhere - all of it tight and radio-ready.
Despite the electronics and studio technology, GALACTIC's albums are very much band records. Mercurio explained the GALACTIC process, which starts out with the beat: "The way we write music," he says, "we come up with a demo, or a basic track, and then we collectively decide how we're gonna finish it." The result is a hard-grooving sequence of tight beats across a range of styles that glides from one surprise to the next.
What pulls all the diverse artists on CARNIVALE ELECTRICOS together into a coherent album is that one way or another, it's all funk. GALACTIC is, always was, and always will be a funk band. Whatever genre of music anyone in New Orleans is doing, from Mardi Gras Indians to rock bands to hardcore rappers, it's all funk at the bottom, because funk is the common musical language, the lingua franca of New Orleans music. Even zydeco can be funky -- and if you don't believe it, check out "Voyage Ton Flag," the album's evocation of Cajun Mardi Gras, in which Mamou Playboy STEVE RILEY meets up with a sampled Clifton Chenier inside the GALACTIC funk machine.
website:
About w/ special guests LATYRX feat Lyrics Born & Lateef the Truthspeaker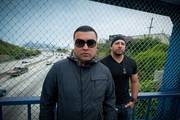 Back in 1995, Bay Area rap was at the big-ballin' peak of the mobb music craze, LA was chronically gripped in a G-funk indo smoke haze, Atlanta was enjoying its Southernplayalistic days, and NYC was entering a shiny-suit phase. There was no frame of reference for two lyrical emcees experimenting with the tonality and resonance of rhyme patterns.
This was uncharted territory.
The pairing of Lyrics Born and Lateef the Truthspeaker into Latyrx was "an accident," LB recalls. Both emcees were solo artists, but when LB heard the pre-Endtroducing DJ Shadow beat which would become Latyrx' eponymous debut single, his reaction was, "Oh my God, I gotta get on this."
"Latyrx" was a syllabic tour de force which began with two dissonant voices -- one gruff and bassy, the other higher-pitched and trebly, both hella fluid -- it transmogrified into a harmonic convergence of doubled verses simultaneously assaulting eardrums. Undeniably, it was great... but weird. "It was ill," Lateef recalls. "We really felt like we had something unlike anyone else had done," he adds.
Latyrx' first and thusfar, only, full-length, 1997's Latyrx: the Album, "set the tone for what Solesides and Quannum would do," LB recalls, while 1998's Muzappers Mixes EP spawned one of the only feminist-affirming club bangers in hip-hop history, "Lady Don't Tek No
Though Latyrx never officially broke up, after Muzappers, both members followed their chosen paths to considerable solo success. Yet no matter how much acclaim each attained individually, the notion of someday making another Latyrx record was always present. "It's probably the number one thing I got asked about in my career," LB says.
14 years (!) after the release of Latyrx: the Album, LB and Lateef have finally answered the prayers of long-starved fans who have begged, pleaded and, by now, tweeted about the possibilities of a reunion. An impromptu Latyrx set at a 2010 Jazz Mafia concert at San Francisco's Mezzanine led to an appearance at 2011's Outside Lands festival, Google's Summer Concert Series (they were the first hip-hop act to perform) and a last minute appearance as part of HITRECORD At The Movies -- a unique film and music traveling showcase curated and hosted by actor and artist Joseph Gordon-Levitt. More shows, new songs including "Hardship Enterprise", which appears on Lateef's solo debut, Firewire, a mixtape (to be called Latyrical Madness Vol. 1) and, possibly, a new album.
What Latyrx brings to the table is a technical difficulty level rare these days in hip-hop and matched only by a few groups in the genre's entire history: Run-DMC, Jurassic 5, Blackstar, Freestyle Fellowship. Their challenging, intricate back-and forth arrangements evoke a lyrical version of bebop, with layer upon layer of rhythmic syncopation and vocal patterning constantly pushing the envelope.
"We have a good chemistry and it's kind of unique," Lateef says. "We step up each others' game content, and both of us push each other in the originality department."
"What we've talked about is very simply, picking up where we left off," LB explains. The return of Latyrx stands as Very Good News for true hip-hop fans, lyrical aficionados, boom-bap beatniks, urban bohemians, wee tots in Reeboks, and Muzappers of all shapes, sizes, colors, and ages.
Website:
Map & Directions
Tags for this Event:
Music:
Jazz
Groove/Jam
Property > Crystal Ballroom & Lola's Room
Related content (tags):