30340 SW Boones Ferry Rd
Wilsonville OR 97070
Phone: (503) 427-2500
Fax: (503) 427-2519
Contact Us
Riverside Northwest
Thursday, November 29, 2012
7 p.m. |
Free |
All ages welcome
About Riverside Northwest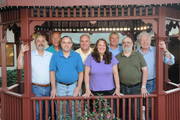 This seasoned group of musicians has been entertaining a variety of venues for over a decade. Their repertoire consists of music from the 50's classics to some current top 40 hits to include contemporary Christian music, making the band versatile to play many events and venues.
With Riverside Northwest you get tight four and five part harmonies, combined with smooth instrumentation to create an exciting, fun and enthusiastic performance for all audiences. Riverside Northwest is made up of talented veteran musicians that also play outside the group as well. Here is a little background on each member.
Tom Stanton: Bassist and group leader. Tom has been playing guitar since he was 15 when he learned how to tune the guitar from his brother Miles. Tom has been playing the bass for about five years and enjoys singing and playing the songs he learned as a teenager and gospel songs from any era. Tom Loves enthusiastic songs and sings lead on classic songs like Proud Mary and Six Days on the Road
Miles Stanton: Lead and rhythm guitar, lead and harmony vocals. He started playing the ukulele at 8 years old, and then went on to learn the guitar and bass. He's played in high school, and currently in his local church. His musical influences are The Beatles, Jimi Hendrix, Journey and Boston.
David Moe: Acoustic and electric guitar and both lead and harmony vocals. Music has been a big part of his life since he was a small child. His mother was in musical theatre productions and he would accompany her and help her learn her lines and sing in children's choirs. By middle school, he was involved in plays and musicals and has continued through the years. As a young adult he began teaching himself guitar where soon after he started playing & leading singing at youth groups. Over the years he has been in many church choirs, worship ensembles and male Acappella group singing high tenor and has been a member of Riverside for over ten years now.
George Simpson: Keyboards, lead and harmony vocals. He began playing piano at 4 years old, mainly classical, and grew up singing in choir. He learned to play concertina and acoustic guitar a bit with a folk group doing sea shanties. Later, he was involved with musical theatre in High School, and fell in love with blues/ rock (especially Jethro Tull band). He later started playing Christian music as well. He has been with Riverside Northwest for 6 years now. His piano style is accomplished along with his strong lead vocals.
Ruppert Reinstadler: Guitar and vocals. Dwight Yokum says."Its guitars, Cadillacs and Hillbilly music". In Ruppert's world, "Its guitars, Corvettes and rock 'n roll music". He was enthralled by the British invasion guitar sound and muscle cars growing up. He liked the music but it was guitar players that were fun to watch. They made it happen! George Harrison and Eric Clapton were putting together some great riffs. Since then he's continued to play both solo and in bands with influences from Chuck Berry, Lynyrd Skynyrd, Cream, The Beatles, The Moody Blues, Crosby Stills Nash and young and Journey.
Walter Bruhn: Drums, percussion, lead and harmony vocals. He started his music life in kids choir at Church very young. Inspired after seeing a live performance of the Beatles in 1963, he started to teach himself to be a drummer..He received his first drum set in his early teens, started a band and has been in numerous bands since. He studied music at Mt. Hood Community College. He played in 'The Echoes' and after four years in the Air Force, he was in 'Glory Road' playing many venues. Through the years he has toured up and down the west coast including a short tour with one of the 60's "Drifters" band. .Later he was in Portland's Christian Rock Band: 'SEVEN'. and released two CD's,..
Chris Leavitt: Guitar. He is our newest member of Riverside Northwest. He has been playing guitar which has been a passion of his for most of his life and he's had the privilege to play on the Tigard Christian Church and Newberg Christian Church Worship teams. He played with Walter in 'SEVEN' as one of the guitarists and played at Portland's Rose Festival fun center stage one year. He's always felt compelled to share his God given talent and currently finds himself with the very talented and generous folks who make up Riverside Northwest.
Michelle Edwards: Keyboards, percussion, flute and vocals. Music has been a huge part of her entire life. She started young with music lessons and being and active member in church and school choirs as well as musical theater. She has also played in and directed handbell choirs for over ten years. She played in an 'all request band' for over two years that played all over the Portland Metro area, and has been an active member of a praise and worship band She is the one of the newest member of Riverside Northwest, and adds what she likes to call the 'the extra musically enhancing sounds'.
Map & Directions
Tags for this Event:
Music > Americana
Property > Wilsonville Old Church & Pub
Related content (tags):