10000 N.W. Old Cornelius Pass Rd.
Hillsboro, OR 97124
(503) 645-3822
Fax: (503) 439-1059
Contact Us
The Phoreheads
Saturday, November 3, 2012
9 p.m. |
Free |
All ages until 10 p.m.
About The Phoreheads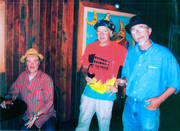 This band of veteran players was formed in 1998 and originally featured the legendary Turtle VanDemarr (Dan Hicks and his Hot Licks, Fly-by Nite Jass Band, Fritz Richmond's Barbecue Orchestra and currently The Freak Mountain Ramblers) on guitar and vocals; David Reisch (Holy Modal Rounders, Clamtones, Michael Hurley and also currently The Freak Mountain Ramblers),on bass and vocals, Spud Siegel (Famous Potatoes, Floating Glass Balls, Fritz Richmond's Barbeque Orchestra) on electric mandolin and vocals, and the late and beloved Reverend Billy Hults (Fly-by-Nite Jass Band) on washboard and percussion. They have recently talked another legendary musician, John Browne (PH Phactor, Melodious Phunk) on washboard, harmonica, percussion and vocals to join RC & The Phoreheads. Their first gig as a quartet was booked at Hotel Oregon in the first of November and folks were coming out of the woodwork to listen to these guys. John and Billy used to play music together back in the day and god knows that Billy is jumping for joy! Billy's description of their music was "rock & roll jazz, with a lot of blues and rockabilly influence." Everything from the Rolling Stones to Dan Hicks to Johnny Cash to the Holy Modal Rounders. The music is contagious.
Map & Directions
Tags for this Event:
Music > Americana
Property > Rock Creek Tavern
Related content (tags):