Come have fun in school... for once...
5736 N.E. 33rd Ave.
Portland, OR 97211
Local: (503) 249-3983
Elsewhere: (888) 249-3983
Contact Us
Eric Stern CD release party
Friday, November 30, 2012
7 p.m. |
$12 door |
All ages welcome
About Eric Stern CD release party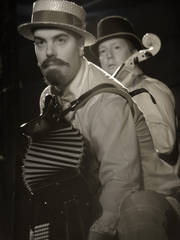 Eric Stern has appeared on NPR and performed at the Kennedy Center,The Great American Music Hall, Joe's Pub in NYC in San Francisco, throughout the Northwest, and internationally from Portland to Paris to Poland.
Eric Stern is best known for being the founder and artistic director of Vagabond Opera, an ensemble that has achieved worldwide success. Vagabond Opera was created in 2002 by U.S. and European-trained opera singer and composer Eric Stern. Then disillusioned with the classical opera world, Stern created a new context for opera: Performance on a more intimate scale incorporating not only opera but elements of Weimar Cabaret, Arabic and Balkan forms, and the original music that springs from the ensemble's fertile creative work.
Eric Stern is an active and prolific composer writing and arranging for the Vagabond Opera ensemble and other projects. In Portland he was commisioned in 2007 to compose the music for Tears Of Joy Puppet Theatre production of Pinocchio and most recently composed the full-length opera "Queen of Knives" which premiered in Portland.
Stern grew up wandering the aisles of The Wooden Shoe Books and Records (an anarchist collective bookstore that his parents helped found) listening to every record he could get his hands on, then went on to formal training in piano and opera.
He studied and performed opera in Philadelphia, New York and Paris and founded the Jewish Theater Project in New Mexico with Rabbi Lynn Gottlieb, where he helped produce Neshama, a Jewish arts festival. Eric Stern was the musical director for the show, writing several short musical pieces, one of the plays, and one full-length composition as well.
Prior to that, in the summer of 2000, he toured Canada where he, along with Mark Chavez and Shenoah Allen, performed Sabotage, a comedic tour-de-force that the trio wrote, to audiences in Albuquerque, New York City, Toronto, Winnipeg, Saskatoon, and Edmonton, garnering major critical acclaim. Stern composed and performed the music for Sabotage.
A fine opera singer, Eric Stern has appeared in over thirty operas, including lead roles in La Boheme (Schaunard), Die Fledermaus (Dr. Falke), Gianni Schicchi (Gerardo), Carmen (El Dancairo) and the American Premiere of The Beggar's Opera (Ben Lockitt). Eric is fluent in Jazz, Klezmer, Classical and Middle-Eastern idioms and his work has been enjoyed internationally
In the last several years he has studied the arabic and turkish repertoire receiving instruction from Souhail Kaspar (as well as performing onstage with the master percussionist), Omar Faruk Tekbilek, Elias and George Lammam and Souren Baronian which in turn led him to co-create The Flying Bokhara Orlestrah and to found Hazz Hazz Hulu.
He is passionate about Bulgarian accordion and has studied with Milen Slavov and Kalin Kirilov.
He has also returned to his Jewish roots and is a passionate lover and advocate of the Yiddish Language.
Stern is fluent in a variety of genres from jazz piano to Balkan accordion, to Opera. His compositions reflect his scope. Recently Stern was commissioned to compose for Portland's own Tears Of Joy Theater production of "Pinocchio".
Eric Stern appears on the Decemberist's album Her Majesty and also performs as a soloist or with the Eric Stern Trio.
Website:
Map & Directions
Tags for this Event:
Property > Kennedy School
Related content (tags):