Saloon & Hotel
836 N. Russell St.
Portland, OR 97227
Saloon: (503) 282-6810
Hotel: (503) 335-8900
Contact Us
Early Hours
The Get Ahead
Wednesday, November 28, 2012
8:30 p.m. |
Free |
21 and over
About Early Hours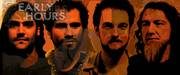 Early Hours is the type of band that warms you in the chill of winter. They've got a sound that billows out into the air before you, stamped with their big glowing harmonies, reminiscent of old records of a bygone era and a style carved by a dedication to the craft of songwriting. They write tunes that find no place in any ethos but spring forth from a new well of Americana that has only now touched the air we breathe.
The band's uniqueness lies in its use of three terrific songwriters, lead guitarist Joshua Rivera, (of Azul Yael), multi-instrumentalist Jonah Willbach (of Sudden Anthem), and bassist Stefan Andrews (Sugarcane). Each of these songwriters has a unique style, from Joshua's fierce emotion, to Jonah's gentle ease, to Stefan's booming vocals and heartfelt simplicity. But somehow amidst these different directions one clear musical goal is accomplished with bravado--sincerity. Along with a dynamic drummer (Samuel Dyer), these guys span the arc of live performance from delicate 3-minute dream-pop songs to 10- minute mini-epics delivered with ferocity and improvisational virtuosity. These guys are not afraid to take chances, but this doesn't usually come in the form of theatrics but instead of laying their hearts on the line.
After playing together for years, this band has a history, a warmth, and a conversation that is apparent in their performances. They are stepping up now to record their first LP with a set of songs that are destined to take hold of us on a gloomy night and help ease our own quiet storms.
Map & Directions
Tags for this Event:
Property > White Eagle
Related content (tags):