Come have fun in school... for once...
5736 N.E. 33rd Ave.
Portland, OR 97211
Local: (503) 249-3983
Elsewhere: (888) 249-3983
Contact Us
2013 New Year's Eve at Kennedy School
Dr. Theopolis
Freak Mountain Ramblers
Monday, December 31, 2012
Music starts at 9 p.m. |
Dr. Theopolis tickets $20; Free music in the Gym (Lodging packages are sold out) |
21 and over
About 2013 New Year's Eve at Kennedy School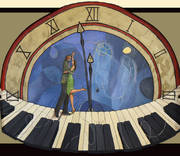 Make it a night to remember by partying to the funk sounds of Dr. Theopolis in the Theater. Head to the Gymnasium for hilltop rock from Freak Mt. Ramblers.
MUSIC SCHEDULE
Dr. Theopolis · 9 p.m. (Theater – free for overnight guests; music-only tickets available online for $20 per person)
Freak Mountain Ramblers · 9 p.m. · Free (Gym)
About Dr. Theopolis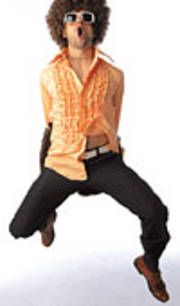 Get up and dance, the Doctor is here to shake you right out of your skirt with his coup de party. Funky? Yes. Sexy? Yes. Smooth? Oh yes. Fabulous? Quite. Delicious? Only the tastiest will do. Come to a Dr. Theopolis show and experience the healing.
Dr. Theopolis has performed live in a wide range of venues from the small McMenamin's White Eagle to the large McMenamin's Crystal Ballroom. Clubs in between consist of Tonic Lounge, Fez Ballroom, Green Room and Cobalt Lounge. The group consists of 8 funky and free boys who are here to make the mood right and get it on. EZ Money steers the ship as the head MC. His bro, Cecil Pimpington follows on vocals and tenor sax. On their right is Mr. Bone Dangles, bass player and backing vocals. Beware his shoes ladies. One is not enough. On the trumpet and keys is A-Bomb, hailing from Eugene by means of the funk highway. Wham and bam then slam some ham. The sexiest man in all of Portland, Notorious PhD, lays down beats like none others. Heads up, backs straight and stand amazed; the guitar world of Dr. T is now in the hands of The Original Doctor (OD). Slipping it to the keyboards is Soft G. Over and over again. The final element in Theopolodium is the man Mr. Fabulous, who channels the-powers-that-be on the dance floor into something as sweet as candy from a lady.
About Freak Mountain Ramblers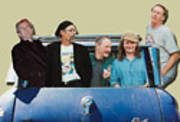 Portland's own Freak Mountain Ramblers bring a rollicking brand of rock 'n' roll, bluegrass, alternative country and country-blues to every show they play.
With a lineup including three members of the inimitable and notorious Holy Modal Rounders / Clamtones amalgamation of the '70s and '80s, Freak Mountain Ramblers has its roots in the underbelly of the alternative music scene that existed at that time, both in Portland and across the country. The Freaks have accumulated a loyal following in the Portland area by dependably creating beauty and bedlam at their live shows, and by producing CDs that successfully translate that energy and excitement to disc. Four lead singer/songwriters, each with a distinct character and approach to life and music, provide a dynamic show that packs the rooms with some of the most interesting music fans around.
The Freak Mountain Ramblers are veteran performers packing decades of experience. FMR members have been core musicians of the Holy Modal Rounders, Golden Delicious, the Clamtones, Richard Cranium and the Phoreheads, Prairie Dogs, Swingline Cubs, The Trail Band, and The Fly By Night Jass Band.
"... Freak Mountain Ramblers aren't your typical country western band. Not only have they chucked the slick yippie-ki-yay good looks of contemporary C&W singers for the haggard couture of mountain men, their lyrics have bizarrely warped the genre's storytelling. One song starts as a fable about two fighting neighbors and picks up speed until they have doused each other with gasoline. Strangely addictive and disturbingly fun, the song is sung in sweet tones and set to a galloping swing." - Portland Mercury
website:
Map & Directions
Tags for this Event:
Events:
Holidays
McMenamins Celebrations
Music:
Americana
Blues
Groove/Jam
Property > Kennedy School
Related content (tags):