& Lola's Room
1332 W. Burnside
Portland, OR 97209
(503) 225-0047
crystal@mcmenamins.com
94/7 and Widmer Brothers Brewing present
"A December to Remember"
The Lumineers (sold out)
Y La Bamba
7 p.m. doors, 8 p.m. show |
*** This show is SOLD OUT! *** |
All ages welcome
For the full "A December to Remember" concert schedule, visit the 94/7fm website.
About The Lumineers (sold out)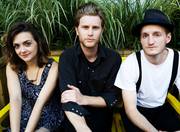 "Wesley Schultz, 9, who wants to be an artist, said, 'I spend a lot of time on my drawings and it turns out good 'cause I've been practicing a lot.'" -The New York Times, 3/15/92
Twenty years ago, Wesley Schultz saw the future.
Back then, growing up in the New York City suburb of Ramsey, New Jersey, Wesley spent his days drawing side by side with his best friend, Josh Fraites. Today, as bandleader of The Lumineers, Wesley's replaced his pencil with a guitar, his drawings with songs, and plays side by side with Joshua's younger brother Jeremiah. He still practices a lot, and it still turns out good.
But The Lumineers' story didn't come so easily.
It begins in 2002, the year Jeremiah's brother, Josh, died from a drug overdose at 19. Amidst the loss and grief, Wes and Jer found solace in music, writing songs and playing gigs around New York. After battling the city's cutthroat music scene and impossibly high cost of living, the two decided to expand their horizons. They packed everything they owned-nothing more than a couple suitcases of clothes and a trailer full of musical instruments-and headed for Denver, Colorado. It was less a pilgrimage than act of stubborn hopefulness.
The first thing they did in Denver was place a Craigslist ad for a cellist, and the first person to respond was Neyla Pekarek, a classically trained Denver native. As a trio, they began playing at the Meadowlark, a gritty basement club where the city's most talented songwriters gathered every Tuesday for an open mic and dollar PBRs. Neyla softened Wes and Jer's rough edges while expanding her skills to mandolin and piano. And so The Lumineers sound took shape; an amalgam of heart-swelling stomp-and-clap acoustic rock, classic pop, and front-porch folk.
In 2011, an eponymous, self-recorded EP led to a self-booked tour, and before long The Lumineers started attracting devout fans, first across the Western US, then back in their old East Coast stamping grounds. Young, old and in-between, they're drawn by songs like "Ho Hey" and "Stubborn Love," Americana-inflected barnburners in the vein of the Avett Brothers and Mumford & Sons. They're drawn by songs like "Slow it Down" and "Dead Sea," slow, sultry ballads that suggest the raw revelations of Jeff Buckley and Ryan Adams. They're drawn by the live Lumineers experience-a coming-together in musical solidarity against isolation, adversity, and despair.
The roots revival of the last few yeas has primed listeners for a new generation of rustic, heart-on-the-sleeve music-the kind that nods to tradition while setting off into uncharted territory. The Lumineers walk that line with an unerring gift for timeless melodies and soul-stirring lyrics. It will all be on display soon, on the band's first full-length album, due in March.
Born out of sorrow, powered by passion, ripened by hard work, The Lumineers have found their sound when the world needs it most.
Website:
About Y La Bamba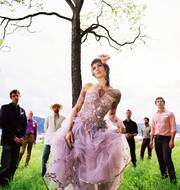 "... a collection of hazy, whispering ballads steeped in polarizing art-folk and sacred Mexican lore." -- Filter
"...doing Portland proud" -- Billboard
"Elena's voice floats like some kind of cirrus cloud over the oceanic psych-folk tones" -- The Tripwire
"...definitely one of the records you'll want to look out for this fall." -- Pop Tarts Suck Toasted
"Portland, Ore., quintet Y La Bamba makes fractured folk that sounds as if it comes from dog-eared diaries. The author is statuesque Luz Elena, the daughter of Mexican immigrants, whose vintage vocals seem to come from the 78-rpm era." -- Buzzbands.LA
"The Portland, Oregon, band mixes Devendra Banhart-influenced art-folk with hazy femme vocals and traditional Mexican sounds to weirdly entrancing effect" -- LA Weekly
"The songs were like mature lullabies, brooding and rich, playful but never lingering on the surface...It was difficult not to be seduced." -- The Stranger
"Lupon is a wide-ranging garden of styles, with gossamer folk and jangling indie-rock steeped in the influences of Mendoza's Mexican heritage. Her unearthly vocals-at times soft and frangible, at others hardily operatic-sound completely lost in time, like they're emerging from a dusty recording on an abandoned Victrola." -- Portland Mercury
"When you read about Y La Bamba, it's often a visual description--like an indie-pop Lady Gaga, tall-'n'-tattooed frontwoman Luz Elena has a steez that often overshadows her band's actual music. Which is a shame, because the group's sound has come a long way as of late. On the long-awaited debut full-length, Lupon, that point is underlined like 12 times, highlighted and circled with little hearts....it's physical proof that Y La Bamba is a lot more than a pretty face." -- Willamette Week
With Y LA BAMBA, Luzelena Mendoza draws from both her strict Catholic upbringing as an only daughter of a Mexican immigrant and a debilitating illness that led her to fall away from her faith, to create what LA Weekly calls "Devendra Banhart-influenced art-folk with hazy femme vocals and traditional Mexican sounds."
Mendoza's father immigrated to the Bay Area from the Michoacan region of Mexico after meeting her mother who had received her US citizenship as a teenager. Her father got a job at a southern Oregon sawmill and Luzelena would spend her childhood summers on a farm in California's San Joaquin Valley among peach, almond, and fig orchards. It was in these strong Mexican communities that she would soak up the melodies and the stories that were being told while, as she remembers it, "the men with tassel hats" strummed their guitars and sang their traditional folk songs in three part harmonies. "I remember singing along, mimicking my father's voice and dancing like a little wild child," she recalls. For Mendoza, this music was the only way she could relate to her father, and was a bright spot in a rough childhood.
In 2003, Mendoza traveled to New Zealand and India, in a quest for a deeper understanding of her spiritual growth as an active Christian, hungry for the tools to create a shift on this planet. During her trip to India, she contracted amoebic dysentery and giardia, causing her to suffer from insomnia, lose 60 pounds and fear her loss of sanity. "It shook me in ways I was not expecting, leading me to struggle with my prayer life and search for a healthy relationship with God, the universe, and with myself," says Mendoza of her condition (which was only complicated with a misdiagnosis). "I gave up on Christianity and what religion was starting to mean to me due to a natural awareness that was knocking on my door."
Upon her return to the US, she took in a white six-toed cat to keep her company as she fought to regain her physical, emotional and spiritual health. She christened her new feline companion La Bamba, a name that she incorporated into a moniker for her home recordings and performances at open mic nights in her new home, Portland. Bassist and vocalist Ben Meyercord caught some of Mendoza's open mic performances and the two quickly found a musical connection. In a whirlwind week that she said happened magically, Mendoza recruited Mike Kitson on drums and David Kyle on guitar. Luzelena played in an Ashland band with Kitson when she wanted a more quiet alternative to her early punk roots and Kyle was a musician she met online that shared her spiritual and eccentric philosophies. Intuition told her that she was going to meet the final piece in her musical puzzle and, sure enough, she stumbled upon accordion player Eric Schrepel playing the squeezebox at a puppet show.
With a raw songbook of home recordings under her belt and a new group of musicians to help Mendoza with her musical vision, Y LA BAMBA began to captivate audiences in Portland and tour stops around the US. Eventually, the quintet would attract the attention of The Decemberists guitarist Chris Funk, who offered his production skills for the band's first studio recording. Funk worked tirelessly to capture Y LA BAMBA's rustic tones, songs inspired by the traditional tunes of Mendoza's childhood, and her signature vocals that resemble the sounds spilling out of a 1930's Victrola. Dubbing the confidently stunning body of songs Lupon (after a nickname that Mendoza's father despised), Y LA BAMBA has emerged from the studio, ready to wow listeners everywhere. Lupon will be available during the fall of 2010 on Tender Loving Empire.
myspace:
Map & Directions
Tags for this Event:
Property > Crystal Ballroom & Lola's Room
Related content (tags):