A truly remarkable destination.
2126 S.W. Halsey St.
Troutdale, OR 97060
Local: (503) 669-8610
Elsewhere: (800) 669-8610
Contact Us
2013 New Year's Eve at Edgefield
Polyrhythmics
Polecat
Sonny Hess Trio
Monday, December 31, 2012
Music starts at 8 p.m. |
Winery & Loading Dock music is free (Lodging packages sold out) |
21 and over
About 2013 New Year's Eve at Edgefield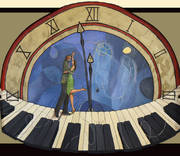 *** MUSIC SCHEDULE ***
The Polyrhythmics · 9 p.m. (Blackberry Hall - exclusive to overnight guests)
Sonny Hess · 8 p.m. · Free (Winery)
Polecat · 8 p.m. · Free (Loading Dock Tent)
Make it a night to remember by booking one of our exclusive overnight packages and partying to the funk sounds of Polyrhythmics in Blackberry Hall. Head to the Loading Dock for bluegrass and alt.country by Polecat. Chill in the Winery to the bues of Sonny Hess Trio.
Get all the details on our special 2013 New Year's Eve Packages page.
About Polecat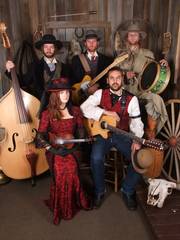 Formed in Bellingham, Washington in March 2010, Polecat has quickly established itself in the Northwest, with two records and over 100 shows in one year. Their unique instrumentation is comprised of Karl Olson (drums), Jeremy Elliott (electric guitar and vocals), Aaron Guest (vocals and 12 string guitar), Cayley Schmid (fiddle), and Richard Reeves (upright bass). This enables them to seamlessly blend genres including bluegrass, country, Celtic, rock, and world music into their sound. "The core audience of Polecat is, well, everybody. There is a sense of mass appeal attached to Polecat for its unique take on bluegrass, as well as an acknowledged respect for their honest approach to their genre" (H. Nightbert, What's Up! Magazine, June 2010)
Aside from their self-titled E.P. and full length album Fire on the Hill, one of the best aspects of Polecat is their live show. Their music celebrates life, love, and good times, and it reflects on the faces of the players and their audience. Polecat has shared the stage with several nationally acclaimed acts, including The Infamous Stringdusters, The Hackensaw Boys, and Trampled by Turtles.
Website:
About Sonny Hess Trio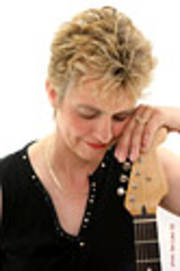 Known far and wide for her sensual guitar playing, songwriting gifts and soulful vocals, local blues legend Sonny Hess fires up shows around town performing in a variety of forms and combinations - solo, in duos, full bands, and as part of the venerable NW Women Rhythm & Blues, which may include fellow blueswomen Lady Kat, Linda Hornbuckle, Duffy Bishop, Janis Scroggins, and many more. Named Outstanding R&B Act and Best New Artist when the Sonny Hess Power Band appeared in 1991, Hess has brought her particular brand of the blues to northwest audiences for nearly two decades. She's also been a serious supporter of fellow artists, producing the NW Women R&B shows and playing regularly with Ellen Whyte (as part of the duo Jane Doe), Leah Hinchcliff, and Lisa Mann.
website:
Map & Directions
Tags for this Event:
Events:
Holidays
McMenamins Celebrations
Music:
Americana
Blues
Groove/Jam
Rock
Singer/Songwriter
Property > Edgefield
Related content (tags):