Patrick Watson
Half Moon Run
Saturday, November 17, 2012
8 p.m. doors, 9 p.m. show |
$15 advance, $15 day of show |
21 and over
Buy Tickets
Tickets on sale now!
The Mission Theater is thrilled to bring Patrick Watson back to its stage after the amazing performance he gave earlier this year!
About Patrick Watson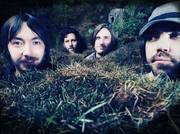 Patrick Watson released his new album, Adventures In Your Own Backyard, on Domino and Secret City in April of this year.
Adventures... was made at home after a grueling five-year run that saw Patrick and his band (bassist Mishka Stein, guitarist Simon Angell and drummer Robbie Kuster) tour the world in support of two critically-acclaimed and successful albums, including the Polaris award-winning Close To Paradise. During this time, Patrick also contributed to Ma Fleur, the 2007 album from The Cinematic Orchestra, co-writing and singing on a sizeable portion of the record.
In Patrick's own words, Adventures... is an effort on the band's part to "make the kind of music we would want to listen to at home." The album's title is a nod to this sentiment and to the fact that it was recorded almost entirely in Watson's apartment in Montreal, unlike his previous efforts which were sprawling recordings in both geography and arrangements.
In spite of the relatively spartan settings in which to record, Adventures... is equally as ambitious as Watson's previous efforts and a thing of dynamic beauty. The result is an album that is still ripe with the touchstones one has come to expect from Patrick Watson and his collaborators, but permeated with a greater sense of patience and confidence.
The tone for creating Adventures in Your Own Backyard was one comfort and proximity, which opened a number of doors. With the help of local engineer Rob Heaney, the band was able to set up a recording environment in Watson's studio that was both professional and comfortable. As Kuster explains, "Pat's studio environment allowed us to be relaxed and feel like we were in an informal space...our own. That really let us dig in to the writing and the arranging." One of the results of this is the extent to which the new album showcases bassist Mishka Stein as a prominent collaborative songwriter; he penned the foundations for a number of the songs, including the first single, "Into Giants."
The result is an album that is still ripe with the touchstones one has come to expect from Patrick Watson and his collaborators, but permeated with a greater sense of patience, and confidence. Adventures in Your Own Backyard is an attempt by Watson and the band to simplify their sights-to make music a bit more close to home, in every sense of the phrase.
About Half Moon Run
Half Moon Run is a talented young trio from Ottawa, Ontario and Comox, British Columbia. It was in a studio situated in Montreal's Mile-End district, through the hardships of time constraints and flatlined bank accounts, that the trio bonded and created their unique sound, fusing together the restless elements of indie, pop and folk with beautiful rhythmic harmonies, delicate guitar lines and a hint of warm electronica.
Aged 21-25 years old, but armed with solid training and raw talent, they mix and combine their different musical backgrounds. Their complex arrangements, inspired by both classical and modern composers, are particularly surprising to hear and see during their live shows. Devon Portielje's remarkable voice is beautifully backed up by Connor Molander and Dylan Phillips. Phillips often plays drums and keys simultaneously as Molander and Portielje shuffle between guitar, keys, samplers, and percussion folky three-part harmonies hold down moody, psychedelic arrangements and electronic-infused soundscapes.
Although together for less than two years, the band has quickly caught the ear of programmers and tastemakers. The trio wowed audiences at SXSW, CMW, M for Montreal and Great Escape, and were proclaimed "Buzz Kings Of The (M for Montreal) Festival" by NME.
2012 kicked off with the launch of their debut album "DARK EYES" on March 27 in Canada, entering right away into Canadian charts.
After a dozen succesful dates in Canada, the band embarked on a marathon 32 gigs in 32 days tour in Europe, including festivals in France, Germany and The Great Escape in the UK, creating a huge buzz with fans and industry alike.
They are currently on tour across Canada and will play summer festivals like Osheaga and Quebec city summer festival, before heading off for a second run to launch the album in Europe and Australia at the end of the year.
Facebook:
Map & Directions
Tags for this Event:
Property > Mission Theater
Related content (tags):