& Gearhart Hotel
1157 N. Marion Ave.
P.O. Box 2299
Gearhart, OR 97138
Pub: (503) 717-8150
Contact Us
Great Northwest Music Tour
Water Tower (formerly Water Tower Bucket Boys)
7 p.m. |
Free |
All ages welcome
Every month the Great Northwest Music Tour blazes a fresh musical trail, bringing an ever-changing lineup of talent to McMenamins Historic Properties. There is no admission charge to the festivities, and our unique hotels offer food, handcrafted beverages and a cozy place to bed down after the last note is played. Bring your friends and family and jam to a different artist every month.
About Water Tower (formerly Water Tower Bucket Boys)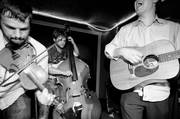 Hailing from Portland, the Water Tower Bucket Boys perform their hard-driving, soul-saturated traditional and original music with tight vocal harmonies and powerful instrumentals. The energy from their lightning stage performances will literally plow through you as you are transcended to another place and time.
The Water Tower Bucket Boys got their start busking on the street corners of Portland and enlivening local square dances. Honing their sound as a solid dance band, playing up and down the West Coast, as well as in the east, the boys have perfected their unique style, drawing from classic bluegrass, old-time, and country songs. Their original repertoire, heavily influenced by blues and country, distinguishes them from other string bands. This one-of-a-kind sound has been influenced and shaped by almost every genre of American music. Just like the traditional songs, their originals works will take you on an entertaining roller-coaster of emotions, while still maintaining that high-lonesome integrity. Whether busking on the streets of downtown Portland or traveling around the world, their infectious love of the music spreads far and wide.
Map & Directions
Tags for this Event:
Property > Gearhart Hotel & Sand Trap Pub
Related content (tags):