An escape into the extraordinary
3505 Pacific Ave.
Forest Grove, OR 97116
Local: (503) 992-9533
Elsewhere: (877) 992-9533
info.gl@mcmenamins.com
Don Q Rum Dinner
Hosted by Roberto J. Serrallés, Ph.D.
7 p.m. |
$60; reservations required |
21 and over
About Don Q Rum Dinner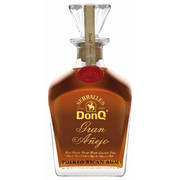 Enjoy a selection of Don Q rums, a Puerto Rican legacy since the mid-1860s with many awards beneath its belt. We'll pair the selection with a carefully curated summertime menu.
Our host for the evening will be Roberto J. Serrallés, PhD, VP Business Development, Destilería Serrallés, Inc.
Dinner Menu
Green apple de gallo with spiced chicken and chips
A fresh salsa of green apples, jicama, tomatillo, red onion, cilantro, mint, sweet peppers
Don Q piña colada with Don Q Gol
Coconut calamari tostada
Coconut-infused calamari atop a molasses-wilted tropical slaw and crisp tortilla
Hemingway daiquiri with Don Q Añejo
Pulled pork empanadas with dark rum dipping sauce
Black beans, pulled pork, sweet potato, caramelized apple and onion
Don Q Gran Añejo (neat)
Mango and papaya tartlet with roasted pineapple glaze and a fresh apple-mint whipped cream
Don Q Cristal Mojito
---
Roberto J. Serrallés, PhD
VP Business Development, Destilería Serrallés, Inc.
Serrallés is a sixth-generation rum maker based in Ponce, Puerto Rico, where his family business, Destilería Serrallés has been located since the 1860's. As one of America's oldest-owned and operated family businesses, Destilería Serrallés has been producing fine rum for nearly 150 years, and its flagship brand DonQ is the leading premium rum brand on the island. Currently, Destilería Serrallés is a diversified company engaged in a variety of businesses that include: the manufacturing of rum and other distilled spirits; the distribution and sales of local and imported spirits and wines; the operation and management of the Ponce Hilton and Golf Resort; a real estate development business, and an environmental services business.
Mr. Serrallés' duties for Destilería Serrallés includes managing all aspects of strategic planning and business development for the companies, including coordinating the development of a new rum import company in the USA, Serrallés USA, which is responsible for the national distribution of the DonQ, BlackBeard Spiced Rum and Palo Viejo brands. Additionally, Mr. Serrallés directs all aspects of external compliance, oversees the safety and security departments and supervises all information technology and environmental initiatives of the company.
Mr. Serrallés began working at Destilería Serrallés in 2003 after completing a PhD in Environmental Sciences from the University of Oregon. He holds a BA from Brown University. Mr. Serrallés serves as member of the Board of Trustees of The Luis A. Ferre Foundation, the owner of the Museo de Arte de Ponce, the preeminent museum of art in the Caribbean.
Don Q Rum Website:
Map & Directions
Tags for this Event:
Events > Beer, Wine, and Spirits
Property > Grand Lodge
Related content (tags):