3702 S.E. Hawthorne Blvd.
Portland, OR 97214
Pub: (503) 467-7521
Movie Line: (503) 249-7474 x1
bagdad@mcmenamins.com
OMSI presents...
Science Pub: "Death from the Skies!"
Wednesday, August 1, 2012
5 p.m. doors; 7 'til 9 p.m. show |
$20 per person |
Minor with parent or guardian
Buy Tickets
Tickets on sale now!
About Science Pub: "Death from the Skies!"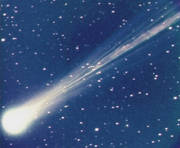 Asteroid impacts! Cometary debris! Extinction level events! These are the ways the world might end, and these are the topics of "Death from the Skies!", a scientifically based but fun look at giant impacts from cosmic objects. Phil Plait — astronomer, author, and blogger — talks about how these events have shaped our history, how they may do so again, and why Hollywood always seems to get them wrong. And lest you think it's all doom and gloom, Plait goes into details on how we might prevent the next great impact from ruining our whole day.
For as long as he can remember, Dr. Phil Plait, a.k.a the Bad Astronomer, has been in love with science.
"When I was maybe four or five years old, my dad brought home a cheapo department store telescope. He aimed it at Saturn that night. One look, and that was it. I was hooked," he says.
After earning his doctorate in astronomy at the University of Virginia, he worked as a NASA contractor at the Goddard Space Flight Center, working with the Hubble Space Telescope. Dr. Plait began a career in public outreach and education with the Bad Astronomy website and blog, debunking bad science and popular misconceptions. The book Bad Astronomy was released in 2002, followed in 2008 by Death from the Skies! Dr. Plait's television show, Phil Plait's Bad Universe premiered on the Discovery Channel in September 2010.
Bad Astronomy website:




Discovery Channel website:




Discover Magazine website:
Map & Directions
Tags for this Event:
Property > Bagdad
Related content (tags):