& Lola's Room
1332 W. Burnside
Portland, OR 97209
(503) 225-0047
crystal@mcmenamins.com
"Hot August Night" 40th Anniversary with
Super Diamond
Funk Shui
After-party in Al's Den w/ tunes from DJ AM Gold
Neil Diamond themed drinks in Ringlers all month!
Saturday, August 25, 2012
8 p.m. doors, 9 p.m. show |
$20 advance, $20 day of show |
21 and over
Buy Tickets
Tickets on sale now!
Neil Diamond fans, don't miss out on this evening! For one night only the Crystal Ballroom will be transformed into the Greek Theater -- complete with trees and Greek columns -- where Neil Diamond performed the legendary Hot August Night show 40 years ago. Helping to complete the rememberance will be one of the finest Neil Diamond tribute bands ever, as Super Diamond performs pieces of the original show from 40 years ago (complete with the original banter from Neil Diamond), and newer classics from the Hot August Night 2 show held in 1986.
This historic event is too big for any single night to contain, however. All month long, in true McMenamins fashion, Ringlers Pub will honor the occasion with a couple Neil-themed drink specials! Every three days during this "Red, Red Wine month," a different red wine from Edgefield winery will be featured for only $5.50 a glass. Other Diamond-esque drinks will include: Cracklin' Rose Sangria, Song Sung Blue, Love on the Rocks, Cherry, Cherry, Kentucky Woman and Diamond Girls.

Meanwhile, just blocks away, the mighty Mission Theater is getting into the act. On the Wednesday before the show, August 22, the Mission will give a special screening of Neil Diamond's classic "The Jazz Singer," and will provide the drink specials listed above and hold a drawing for tickets to the Crystal show.
And to top off the fun with just a little more fun, we invite everyone to join us for an after-party in Al's Den, for a meet-and-greet with the Super Diamond guys while DJ AM Gold lays down all the right tunes to fit the era.
There will not be another Neil Diamond bash like this again (unless you want to wait and see what we do for the 50th!) ... so don't miss the fun!
About Super Diamond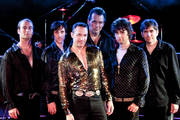 Admit it: like all of us, you have a special memory indelibly linked to a Neil Diamond song -- maybe "Sweet Caroline," maybe "Forever in Blue Jeans," maybe another of Diamond's gems. Whether you know it yet or not, this is the band for you.
For over a decade, Super Diamond has sought to spread the word of Neil with their own interpretation of the man's classic oeuvre. As a child, frontman Surreal Neil grew up listening to the artist along with his parents and later discovered, while developing his skills as a singer/songwriter, that he had an astonishing ability to sing Neil Diamond songs in a very Neil-like way.
After assembling a band of truly kindred spirits to support his impassioned renditions of some of the best music ever written, Surreal Neil and Super Diamond began to perform regularly in San Francisco and then all over the U.S., and something quite wonderful happened: people turned out in large numbers to see them, and returned again and again and again.
website:
About Funk Shui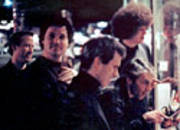 Funk Shui is the Portland-based six-piece funk & rock 'n' roll band comprised of the rhythm section of the once and future, humble but mighty Treefrogs plus many other superstar players, sit-in soloists and superhero special guests.
Funk Shui formed at an open funk jam at the famous Biddy McGraw's Irish Pub when it was still on southeast Hawthorne in Portland. Using ninja tactics and careful sedition, bassist Sean Nowland (a.k.a. The Shag) launched a bloodless coup with support from drummer Jeff Duffy and front man guitarist/vocalist John Henry Bourke. Using the power of the Bass-Drum-Bass, they dismissed the standing army of funk jammers and installed a new government of funk... the era of Funk Shui began.
website:




MySpace:
About After-party in Al's Den w/ tunes from DJ AM Gold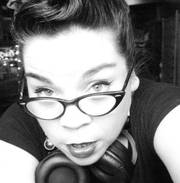 Portland's premier rockabilly disc jockey spinning the real 'n' rare vinyl of the 1950s and 1960s.
About Neil Diamond themed drinks in Ringlers all month!
For the entire month of August you can toast the mighty Neil Diamond and put a bit of cool on your hot August nights!
Cracklin' Rose Sangria
Brandy & Black Rabbit Red table wine, mixed with Gran Gala Orange Liqueur, sugar & fresh cut citrus
Song Sung Blue
Burnett's Citrus Vodka, sugar and fresh lemon & blueberries
Cherry, Cherry
Cherry Vodka, fresh lime and topped with 7UP & grenadine
Kentucky Woman
Bourbon, St Germain Elderflower Liqueur, fresh lemon and topped with apple cider
Sweet Caroline
Fresh blackberries, lemon, sugar and mint muddled with Jeremiah Weed Sweet Tea Vodka
Also ask about our "Red Red Wine" special, featuring a different wine type every few days.
Map & Directions
Tags for this Event:
Music > Rock
Property > Crystal Hotel
Related content (tags):