Professor Monkey Puzzle's World of Quizzery and Pub Quiz USA Proudly Present
The Hammerhead Quiz Show
Sunday, December 16, 2012
6:30 p.m. doors; 7 p.m. show |
$6 per person in advance; $8 at the door |
21 and over
Buy Tickets
Tickets on sale now!
About The Hammerhead Quiz Show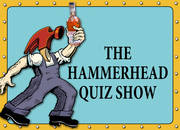 It's a show. It's a pub quiz. It's both! You've never experienced live trivia like this before. Bring your team of no more than six people to compete in rounds designed to both entertain and challenge you with live action skits, videos, music, poetry, and an assortment of interesting (but not too difficult) quiz questions, all performed by a professional improvisational comedy troupe cast guaranteed to make you laugh. Best of all, you don't even need to win the game to win fabulous prizes, such as a day trip to the spa, overnight stays at various McMenamins' resorts, gift certificates, private whiskey tastings, and a whole lot more!
For our very special CHRISTMAS SHOW, we will give away presents to every member of the audience! We will also give away twice as many drawing prizes as we have in the past, lead the audience in a few Christmas carols, quiz on your knowledge of famous Christmas movies, and feature the one and only SANTA ELVIS that will be seen exclusively at the pub quiz show!
What makes the Hammerhead Quiz Show different than a weekly pub quiz game is that it presents trivia visually, using video, music, and live action to create scenes from which the trivia is based. Think skit comedy show meets competitive pub quiz play. And instead of earning points, teams win HammerBucks for every correct answer scored. The Bucks will buy your team's way into the final challenge round. Not enough? Keep them until next month's show, since HammerBucks never expire. Love your Smart Phone? Bring it, 'coz you'll need it if you want to bank bonus HammerBucks in between rounds.
GAMEPLAY: Round one begins with general questions to test your team's mettle, then round two tests your ability to judge if the person on the big screen, whether a PSU professor, barista or even a nationally-known celebrity, knows the answer to the question posed. Our "Mysteriously Brilliant" Round 3 differs each month. You may see a live Name That Tune, a video skit with action and trivia, or even a movie clip collection acted out live. Buy your way into the final challenge round using your earned HammerBucks and compete in a sudden death round that pits team against team in a game show-style round that only gives you three chances to get it right before your dreams are slowly "popped" away. The team left standing becomes the Hammerhead Champion Team, and all the accolades that come with it.
About Pub Quiz USA
Pub Quiz USA is a purveyor of fine pub quiz products based in the Portland area. Visit www.pubquizusa.com for more information and to find a weekly pub quiz near you.
website:




video:
Map & Directions
Tags for this Event:
Property > Mission Theater
Related content (tags):