Saloon & Hotel
836 N. Russell St.
Portland, OR 97227
Saloon: (503) 282-6810
Hotel: (503) 335-8900
Contact Us
Caravan of Thieves
Ryan Sollee (of The Builders and the Butchers)
9:30 p.m. |
$10 advance, $12 day of show |
21 and over
Buy Tickets
Tickets on sale now!
About Caravan of Thieves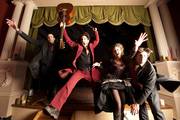 Like many families, this one started with a married couple-Fuzz and Carrie Sangiovanni, (guitar, vocals, various percussive "instruments") writing and performing as a duo. "It started as a romantic, bohemian vision of a couple making music, performing on the road, in parks, venues, traveling around and avoiding responsibility as much as possible," says Fuzz. "The first thing we discovered was we loved singing together, harmonizing our voices. Just seemed to click right away."
In the spring of 2008, Fuzz and Carrie extended their family to include fiery violinist Ben Dean and double bass madman, Brian Anderson completing their colorful vision. Since then, the four of themran away from home and never looked back.
Within that first year, the Caravan of Thieves began to win immediate praise for their unique blend ofgypsy swing and popular music, inspiring them to record and release the debut full-length album Bouquet (2009). To accompany this collection of dramatic and satirical tales, they built an interactivestage set of percussive junk and the ragtag quartet took their newly animated show on the road, sharing stages with world renowned artists such as Emmylou Harris, Dan Hicks, Glen Campbell, NanciGriffith, The Decemberists, Keb Mo, Tom Tom Club, Iron and Wine, Punch Brothers, Tony Trischka, John Hammond, John Jorgenson and many others. The Caravan successfully connected with audienceson each of these diverse bills, proving their act to be understood and appreciated by folk, pop, rock and jazz audiences of all ages.
"The years spent making music as an acoustic duo, alongside street performers, forced us to create astyle of music we can present anywhere, anyhow, plugged in or not, a little wild and raw," adds Carrieaddressing the palpable troubadorian nature of Caravan Of Thieves, "And this seemed to be a characteristic of popular artists and performers who have developed their persona and style thatcontinue to span generations."
Driving gypsy jazz rhythms, acoustic guitars, upright bass and violin lay the foundation for mesmerizing vocal harmonies and fantastic stories. It's theatrical and humorous. It's musical and intense. It entertains, dazzles and defies classification while welcoming the spectator to join the band throughout the performance in momentary fits of claps, snaps and sing-alongs. If Django Reinhardt, the cast of Stomp and the Beatles all had a party at Tim Burton's house, Caravan of Thieves would be the band they hired.
"This idea of bringing the street performance to the stage led us to gypsy music and the 1930's swing era as these are free feeling, charismatic performances by real entertainers. With this as the musicalbackdrop, combined with our fascination with macabre images and sharp-witted sarcasm, we began writing happy sounding pop songs with pretty harmonies, dark thoughts and creepy characters. This allseemed to be a suitable combination. And banging on buckets, frying pans and hubcaps were just crazy and human enough to fit too."

For Caravan of Thieves' next release, Mischief Night (2010), the band felt their sophomore effortwould best be suited as a live recording due to their continuously evolving show and the response and energy they had been receiving from audiences far and wide. Captured from one sold out show in Fairfield, CT on May 1, 2010, Mischief Night highlights the first two years of their most outrageousand engaging on-stage antics, original composition favorites and a few selections from their list ofunexpected cover song reconstructions.
In between their 2011 spring tour legs and stockpiling an ever-growing collection of sonic scrap metal, Fuzz, Carrie, Ben and Brian resided, for the most part, in the highly innovative and sought after Tarquin Recording Studios (The Swell Season, Interpol, The National).
Says Fuzz, "We had a concept going in, both from a sound and production standpoint, lyrically and thematically. A lot of crazy stuff happens on the road, and we took our experiences from on and off thestage, and brought them into the studio with us. Life is ridiculous, all our lives, like an amusement park ride. In this case, we picked a funhouse, since those are ridiculous too. And we wanted to expand the range of what we can do instrumentally but still keep it non electric so we added a few more gritty and twangy stringed instruments that were fun to spank, like banjos, resonator guitars and ukuleles, as well as an orchestra of kitchen appliances for some additionalpercussive bang."
The fruit of their labor, a diverse sonic festival of an album aptly dubbed, The Funhouse, is very likely Caravan Of Thieves' hands down best.
Channeling pop bliss through their trademark lock-tight, turn-of-the-century, bang out a beat on anything that can take it approach, The Funhouse, (operative word: fun) which is soon-to-be-released on United For Opportunity, is exemplary of a band on the high road to musical perfection. The listener closes their eyes and can taste the bacchanalia and join the fete. Tunes like "Raise The Dead," therecord's single, drive the point home with impressive lift, powered by soaring crescendos and inspired gang vocals, not to mention a lyric that invites the deceased to join in the fun. "Mexico" is a dark road ramble that will, at the very least, make you wanna dance around the room, if not run off yourself. "Candy" betrays the writer's addiction to the sweet confections that sounds like Vaudeville, but feelslike The Beatles' "Savoy Truffle." And on it goes-the perfect soundtrack for your trip through thetunnel and into the light. If this album can't raise the dead, nothing will.
website:
About Ryan Sollee (of The Builders and the Butchers)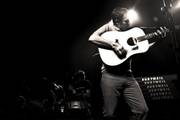 Ryan Sollee, lead singer of The Builders and the Butchers, has been endlessly touring throughout the last few years. From his beginnings playing on rainy Portland streets for random passersby, to the early unplugged Mississippi Pizza and Valentines' shows, to the last three years of endless touring - Ryan and the band live and die for their connection with the audience. Whether playing bar gigs for 50 people or opening arena shows for 3000, Ryan builds a connection with the audience every time he takes the stage.
The Builders went into the studio with the idea of peeling back layers to where the essence of the song lies, and to try and finally fully encapsulate their raucous, impassioned live show. Joining up with Adam Selzer (The Decemberists, M. Ward, She & Him), who worked on their sophomore album Salvation is a Deep Dark Well, and engineer Dylan Magierek (Mark Kozelek, Starfucker, Thao Nguyen), the band created their third album, Dead Reckoning, using the recording style of the 1950s and 1960s, where the magic of a song was captured by the band playing together live and with minimal overdubbing. The Builders tracked almost all of Dead Reckoning in live takes, with Ryan handling vocals and guitar in one room and the rest of the band playing in the other. With tracking and mixing taking a total of only eight days, the energy and intensity of time spent in the studio is immediately apparent on each song.
"In the studio, the most difficult element for a band to achieve is a fusion of the live performance with the recording. The act of recording is quiet, serene, and controlled - the opposite experience of a live show. Sound engineers, studio builders and audiophiles work their hardest to make a 'dead room' to record in," says Ryan. "It's no wonder so few records capture a band's true identity."
Dead Reckoning is an age-old method of sea navigation that involves using past position, speed, and drift to calculate current and future location. Dead Reckoning, with its classic, timeless sound, is a measure of where the band and its music, as well as these times in which we live, have been, are now, and where it all might be going. "I thought it would be a perfect title for the album given its stripped down sound, and how most of these songs tell stories, many of which are set in the past, " Ryan reveals. "Like our previous records, the settings of the songs follow a few main ideas: the father and the son, early 1900s America, absolute good and evil, addiction, and religion. On this album, I really thought a lot about the end of the world and the dark times we live in, how the feelings we feel and the world we experience is not that different from 1930s America, and I thought about the music that was created at that time. This is where the inspiration for these songs originated."
The Builders and the Butchers have had the opportunity to tour with Heartless Bastards, Portugal. The Man, Amanda Palmer, Brand New, and Murder By Death, to name a few.
website:




myspace:
Map & Directions
Tags for this Event:
Music:
Americana
Alternative/Indie
Property > White Eagle
Related content (tags):