4045 N.W. Cornelius Pass Rd.
Hillsboro, OR 97124
(503) 640-6174
Contact Us
Limited-Edition Beer Tasting – Roadhouse Pepperfest – Three Hot Ales
6 p.m. 'til the beer is gone |
Limited-edition beer at happy hour pricing all night |
All ages welcome
Roadhouse Pepperfest
Three Hot Ales
Those wild guys at the Roadhouse who brought you last month's marvelous "Unique Side of Beer" Roadhouse Invitational last month are all fired-up again this month. June is going to be quite the Fiesta. We will feature three pepper-laced liquid concoctions for your enjoyment:
Jalapa Lager
A Northwest Lager infused with Jalapeño, Serrano, and Thai chilis.
Aztec Stout
This Roadhouse favorite is back for a third year! Bittersweet chocolate combines with belly warming heat to yield a rich and satisfying finish to a big, roasty, American stout.
Conflagration IPA
Temperatures spike as Habanero peppers and orange zest ignite a citrusy Roadhouse IPA.
All this plus Taz's delicious "Street Taco Trio" will be matched up with the ales to spice up your night even more.
About Limited-Edition Beer Tasting – Roadhouse Pepperfest – Three Hot Ales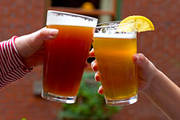 Join us once a month to sample a new, small-batch beer, handcrafted by one of our brewers.
Talk to the brewers, ask beery questions, enjoy happy hour pricing all night long on these limited-edition pints and more.
And when the beer is gone, it's gone.
Map & Directions
Tags for this Event:
Events > Beer, Wine, and Spirits
Property > Cornelius Pass Roadhouse
Related content (tags):