13300 Bothell-Everett Hwy.
Mill Creek, WA 98012
(425) 316-0520
millcreek@mcmenamins.com
Limited-Edition Beer Tasting: Blastonium Stout (Hogshead Whiskey-and-Oak-Aged)
Thursday, August 30, 2012
5 p.m. 'til beer is gone |
Limited-edition beer at happy hour pricing all night |
21 and over
Blastonium Stout
(Hogshead Whiskey-and-Oak-Aged)
Come on out and meet Mill Creek's newest brewer, Charlton Fulton, who is bringing a special keg of his finest ale up from deep in the cellars at his former post – McMenamins High Street Brewery in Eugene, Ore.
The Blastonium is a nitro-only stout with a blast of rich roasty flavors to satisfy the most devout stout drinkers. Notes of French roast coffee in the aroma give way to a silky smooth chocolate flavor in the finish. The light hopping rate and high finishing gravity make a solid framework to highlight the richness of the dark malts. Aged on Edgefield Distillery Hogshead Wwhiskey and oak, the smoothness from the nitro tap rounds it all out to provide the ultimate stout drinking experience. Enjoy!
Malts: Pale Ale Malt, Oat Malt, Crystal Rye 80L, Chocolate Malt, Roasted Barley, Carafa II
Hops: Galena, Centennial, U.S. Goldings
OG: 1.054
TG: 1.014
ABV: 5.16
IBU: 35.3
SRM: 35
About Limited-Edition Beer Tasting: Blastonium Stout (Hogshead Whiskey-and-Oak-Aged)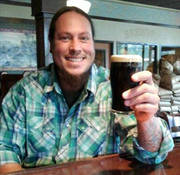 Join us once a month to sample a new, small-batch beer, handcrafted by one of our brewers.
Talk to the brewers, ask beery questions, enjoy happy hour pricing all night long on these limited-edition pints and more.
And when the beer is gone, it's gone.
Map & Directions
Tags for this Event:
Events > Beer, Wine, and Spirits
Property > Mill Creek
Related content (tags):