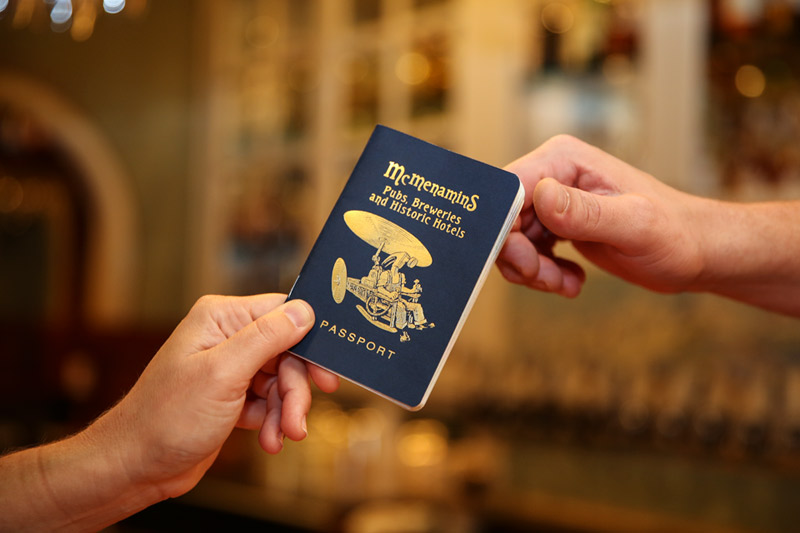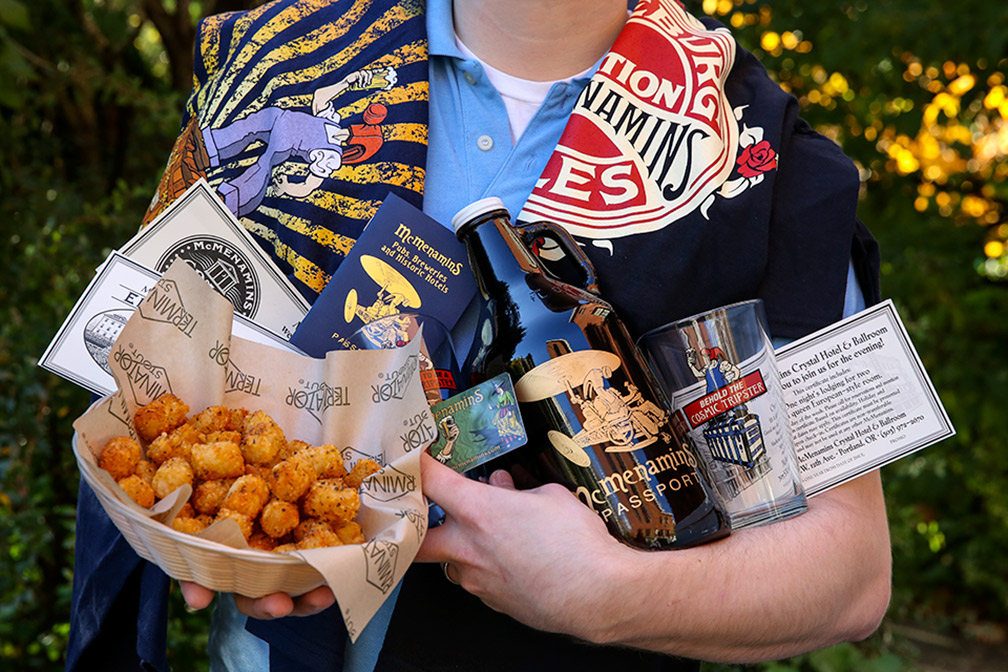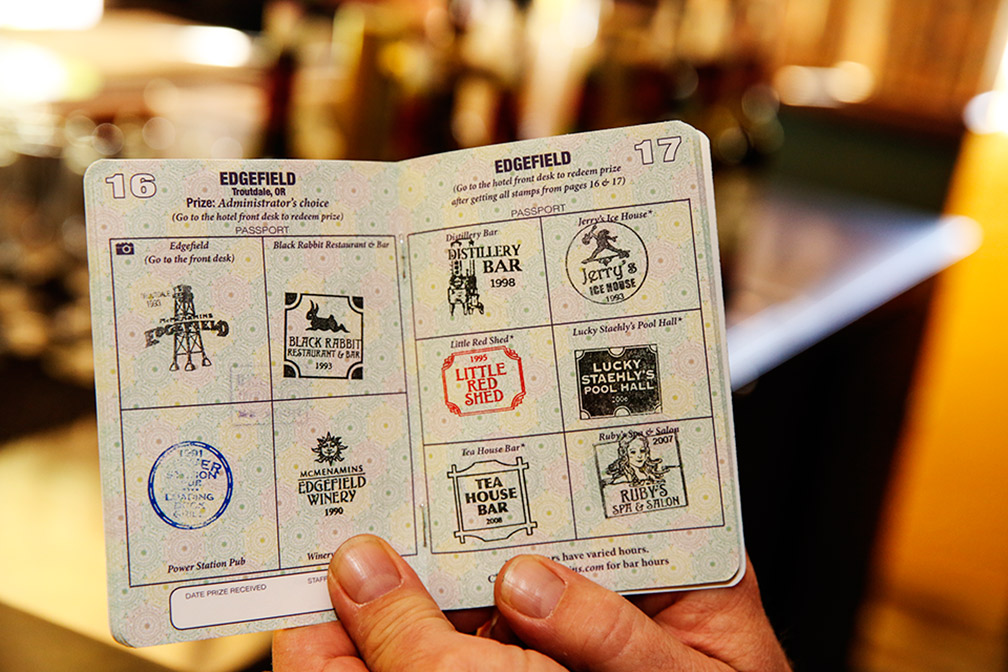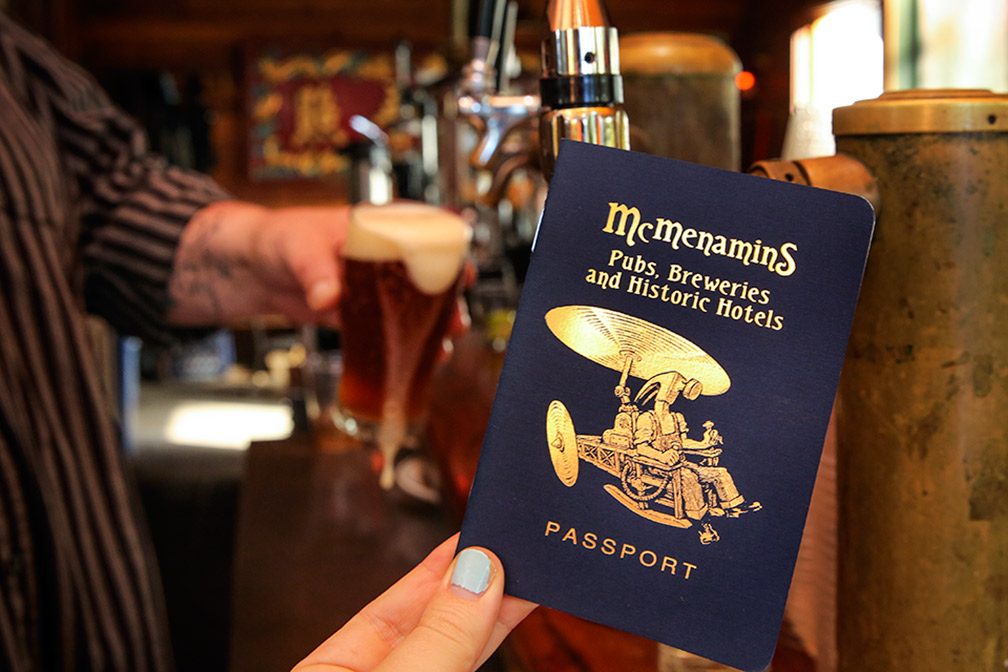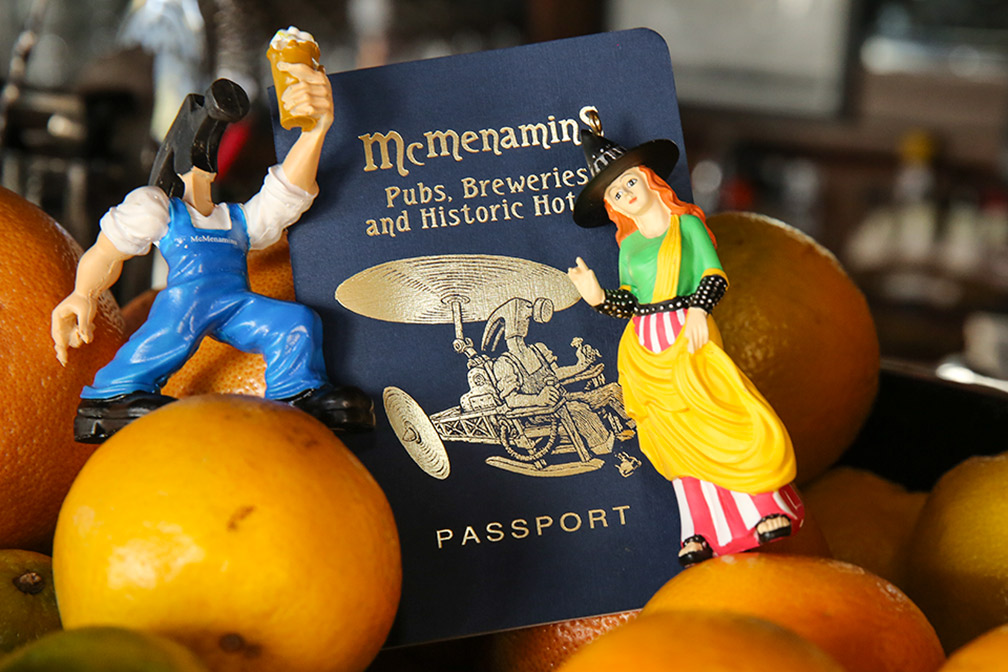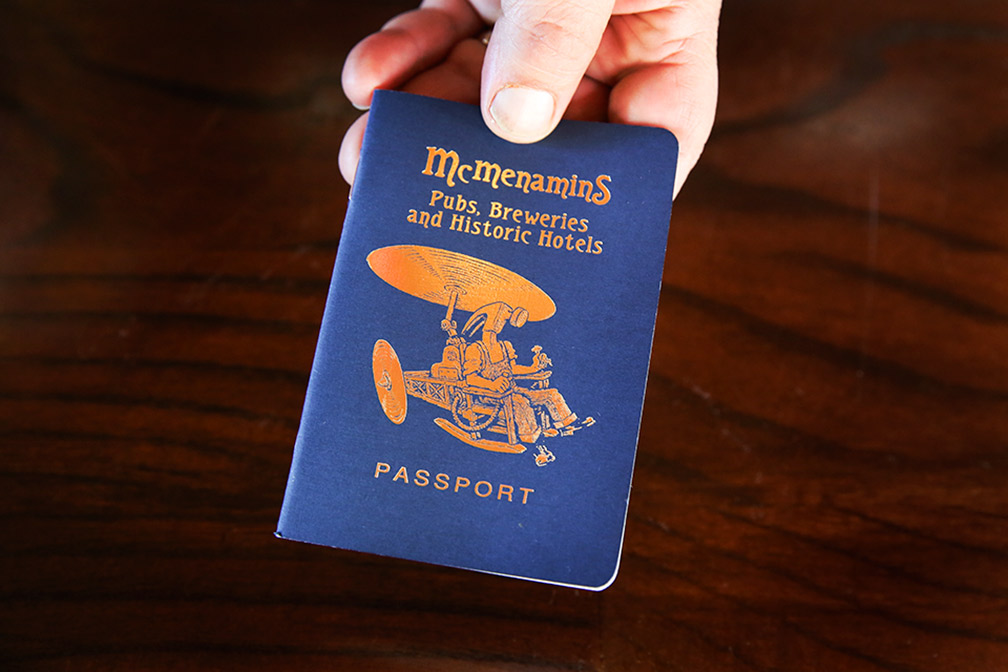 Passport Prizes
You can earn a world of prizes (valued at $200!)
on your quest to fill your passport:
Burgers · Tots · Appetizers · Gift Cards
Pint Glasses · Growlers · T-shirts & more
Passport Home Passport Rules
Passport FAQsRegister Your Passport
When you complete your passport, you'll be awarded the Grand Prize, which includes:
Three overnight stays at any three of McMenamins historic hotels for two in a standard King or Queen room; not valid for suites or cottages. Reservations can be made online or by phone. Certificates may be used for consecutive nights. Blackout dates include Valentine's Day, St. Patrick's Day, New Year's Eve and select three-day holiday weekends: Memorial Day, Labor Day, Martin Luther King, Jr. Weekends. You must present your certificate(s) upon check-in (photocopies are not valid). Certificates are valid for two years from Passport date completion. Based on availability. No upgrades available. Not available with packages. Restrictions may apply.
A pair of tickets to a concert at the Crystal Ballroom, Lola's Room, White Eagle, or Edgefield Concerts on the Lawn (which are June-September every year). The concert is your choice, however, a limited number of Cosmic Tripster tickets are available per show. Sold-out shows are not eligible. The 2 tickets must be used toward one show. Once you've received confirmation for your ticket request, no exchanges or cancellations are allowed. Tickets are General Admission; no upgrades. Please email your request with as much advance notice as possible but a minimum of 3 weeks in advance of the concert date.

Due to high demand, we now have a drawing for Tripster tickets to Edgefield Concerts. When an Edgefield Concert is announced, interested Tripsters can email us until noon the day before the presale with a "hey, put me in the drawing!" Everyone who emails is given a number, and the winning numbers will be drawn, contacted and given tickets. If there is no presale, the drawing will take place at noon prior to the onsale date. Sign up for emails and Edgefield Concerts on the Lawn announcements here.

These 2015 concerts have reached Cosmic Tripster ticket capacity and are no longer eligible:

OK GO on 3/25/2015 at Crystal Ballroom
Richard Cheese on 5/1/2015 at Crystal Ballroom
Sleater-Kinney on 5/5/2015 at Crystal Ballroom
War on Drugs on 5/21/2015 at Crystal Ballroom
The Doobie Brothers on 6/20/2015 at Edgefield Concerts
Death Cab for Cutie on 7/8/2015 at Edgefield Concerts
The Decemberists on 7/10/2015 at Edgefield Concerts
Lyle Lovett & his Large Band on 7/13/2015 at Edgefield Concert
David Gray & Amos Lee on 7/14/2015 at Edgefield Concerts
Barenaked Ladies on 7/25/2015 at Edgefield Concerts
Steve Miller Band on 8/4/15 at Edgefield Concerts
Willie Nelson, Alison Krauss & Union Station on 6/26/15 at Edgefield Concerts
Ben Harper & The Innocent Criminals on 9/5/15 at Edgefield Concerts

Drinks at happy hour prices, Sunday-Thursday, for the first year after you've completed your passport. Passport may not be used in place of legal I.D. (Must show passport to redeem this offer, food, pitchers, flights and taster trays not included. Valid only on beverages that regularly receive a happy hour discount. Some blackout dates/locations may apply).


Exclusive Passport merchandise to show that you did it!

Cosmic Tripster Key. Consider this key your ticket to getting into exclusive passport events, from tours of new properties before they're open, to dinners and tastings and event discounts (UFO Fest!) and who knows what else we'll come up with.

Grand Prize is valued at nearly $500 – not including the happy hour prize because who knows how much that'll save you over a year!?
New Tripsters will receive invitations to the annual Cosmic Tripster Party in spring 2015. Party festivities are for those who have not yet experienced a Tripster party, so the new Tripsters will be those invited. If you attended the inaugural 2014 party and would like to go again, get busy on that second Passport! Consider this your call to action!
How to redeem your Grand Prize
Take your completed passport to the front desk of one of McMenamins historic hotels.

Your passport stamps will be confirmed and your prizes awarded. You'll be given a Grand Prize Booklet containing your overnight stay certificates and details about requesting your concert tickets.
Have a question? Email passport@mcmenamins.com.
| | |
| --- | --- |
| | #mcmpassport |