Thursday, November 8, 2012
Limited-Edition Beer Tasting: Barrelhead

5 p.m. 'til the beer is gone!

21 and over

Limited-edition beer at happy hour pricing
The next beer to be released is the enigmatic, sophisticated, and elusive Barrelhead, a whiskey barrel-aged Hammerhead ale. The keg on tap will be one of just six in existence, so be sure not to miss out on what could be a once-in-a-ruby-moon chance to try an exciting new take on an old favorite. Tastes are free, and pints will be available for purchase, so come thirsty!
Barrelhead
We took Hammerhead, McMenamins' classic Northwest pale ale and top-selling beer, and stashed it away in some of the Edgefield Distillery's Hogshead Whiskey barrels. After careful blending and evaluation, we've decided it's time for this rich, chestnut colored gem to make its transformation known. During its months in barrels, this beer has picked up a little bit of everything one might expect from oak-aging. Barrelhead is a little lighter-bodied than the original, but loaded with new complexities ranging from faint wisps of whiskey flavor to a sweet mellowness from the oak, and even a touch of pleasant tartness. This beauty is truly a one of a kind experience that is a must-taste for seasoned Hammerhead fans.
Malts: Premium 2-row Malt and 75L Crystal Malt
Hops: Cascade
OG: 1.056 TG 1.010 ABV: 5.93 IBU: 44 SRM: 11
Buzz Words: Barrel-aged, Rare, Complex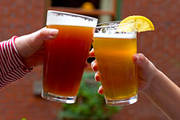 Limited-Edition Beer Tasting: Barrelhead
In 2012 we will be working to showcase the distillery/brewery connection at our Edgefield limited-edition beer releases.