Friday, May 4, 2012
Cort & Fatboy "Late Night Movies" presents

7th Annual "Big Lebowski" Event

7:30 p.m. VIP Pre-Party; 9 p.m. GA doors; 11 p.m. film

21 and over

$10 Advance VIP; $3 day-of-show General Admission
Cinco de Lebowski VII – The cult classic movie The Big Lebowski and live music by The Troublemakers. Advance $10 VIP ticket also includes, hors d'oeurves, live music by Here Come Dots, VIP seating, and door prizes.
Cinco de Lebowski VII
7:30 p.m.
VIP Pre-party doors
7:30–8:15 p.m.
Marching Band will perform to line and inside theater
8:15–9:00 p.m.
Pre-party band – "Here Come Dots"
9 p.m.
General Admission doors
9:20–10:30 p.m.-ish
Headliner – "The Troublemakers"
11 p.m.
The Big Lebowski film starts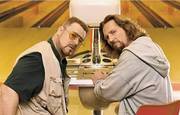 7th Annual "Big Lebowski" Event
When "The Dude" Lebowski is mistaken for a millionaire Lebowski, two thugs urinate on his rug to coerce him into paying a debt he knows nothing about. While attempting to gain recompense for the ruined rug from his wealthy counterpart, he accepts a one-time job with high pay-off. He enlists the help of his bowling buddy, Walter, a gun-toting Jewish-convert with anger issues. Deception leads to more trouble, and it soon seems that everyone from porn empire tycoons to nihilists want something from The Dude.